CLICK ON THE MAP TO SEE SCULPTURE PARK LISTINGS OR USE THE LINKS BELOW

ALABAMA Alaska ARIZONA Arkansas CALIFORNIA COLORADO CONNECTICUT Delaware FLORIDA Georgia HAWAII Idaho ILLINOIS Indiana IOWA KANSAS Kentucky LOUISIANA Maine MARYLAND MASSACHUSETTS MICHIGAN MINNESOTA Mississippi MISSOURI Montana NEBRASKA NEVADA New Hampshire NEW JERSEY NEW MEXICO NEW YORK NORTH CAROLINA North Dakota OHIO OKLAHOMA OREGON PENNSYLVANIA Rhode Island SOUTH CAROLINA South Dakota TENNESSEE TEXAS Utah VERMONT VIRGINIA WASHINGTON WASHINGTON DC West Virginia WISCONSIN Wyoming

BELIZE CUBA MEXICO PUERTO RICO
ALABAMA

Birmingham Museum of Art
Charles Ireland Sculpture Garden
Birmingham, AL
The museum's permanent collection of sculpture, on display in the garden, includes pieces by Rodin, Lipchitz, Hepworth, Caro, Pepper, Botero,
Hollis, LeWitt, Scott, and Chin.

Alaska

ARIZONA
Roden Crater Project (DIA)
James Turrell, Artist
Flagstaff, AZ
In the San Francisco mountain range, Volcanic Field, at the edge of the Painted Desert is the 75 story high, well shaped Roden Crater cinder cone rising up from the desert floor with a rim that is circular and flat. In what is probably the largest piece of art under construction in the world, James Turrell is creating an observatory that will mediate between geological and celestial time, according to the artist. The work is basically a visual experience, "Homogeneous field" which is akin to white noise is to the eye, a perfect featureless sensual field, or "undifferentiated surrounds'. An example are whiteouts- moments during snowstorms when every line, shape and form are swallowed by all all encompassing whiteness.
This type of void creates a feeling which might be called numinous, mystical and an invitation to meditate on the nature of the void.
what is happening is not in front of your eyes, but behind them. The largest of these fields is the: Sky. Once Turrell noticed a cap cloud forming over the crater top. He ran up the crater and plunged himself into the cloud, at a level of 6,000 feet above sea level, sunlight penetrated through the mists and droplets of water evenly. The cloud glowed: a real homogenous field. As Turrell says he is making spaces that will engage celestial events.
More palabras on the Roden Crater, dated Sunday, November 28, 2007: Shh! It's a Secret Kind of Outside Art" by Jori Finkel. It is a wonderful testimony to media hype that the NYT can give so much space to an incomplete hole hole in the ground, in a caldera of an extinct volcano, in the midddle of a high desert plain in northern Arizona.
As Turrell, the LA artist, who bought the crater from Helen McPherson in 1972 says, "Sooner or later". Why bother to spend any more money on excavation and constructionb, when the crater is kept alive and breathing, quite well, just on the fantasy it will open in 2011, or never.
I'm from Missouri. I've seen other Turrell projects at the Henry Museum, Seattle; the modest display at the Nasher in Dallas; the tunnel at MFAH, Houston and the weakest of all, at the De Young Museum, San Francisco. Yawn...
*Scottsdale Center for the Arts
Scottsdale, AZ
Situated on a well landscaped green oasis in the middle of downtown Scottsdale are 12 or more contemporary sculptures on display. Worth seeing.

ARKANSAS

Ozarks Woodland Sculpture Garden
2 Pack McClain Road
Madison County Wildlife Management
Huntsville, AR 72740
Tel: 501 559-2966
camus@madisoncounty.net
New site specific sculpture added each year to the 12 acre meadowland park adjoining the Kings River . Currently four sculptures are on display. Admission is free. Sponsored by the University of the Ozarks, each year an Arkansas sculptor works with students from the university to create a large scale sculpture.
Call ahead for directions and an appointment. Gerald Carr, Manager.

Art Center College of Design
Pasadena CA

Art in Public Places
City of Brea, CA
Started in 1975 the program has over 100 sculptures on display. Any real estate development over $500,000 is required to provide a suitable sculpture for inclusion in the project. The Community Services desk at the Brea Civic Center provides a map and self guided tour.
Auberge du Soleil, "Sculpture in the Olive Grove"
Rutherford, CA
Over 50 sculptures on the grounds of a world class Inn & restaurant. Incredible views over valley. Sculptures well displayed among the groves of olive trees. Benbow Bullock has installed three new sculptures in the "Sculptures in the Olive Grove" exhibition. "Firefly" is a series of leaping hoops heading out into space, but held in position by three powder coated I-beams. "Pascal's Wager" is a brightly multi-colored sculpture, 6'H X 3'X3'; Blaise would have been proud! "Deval Tower" 7'H X 5'L x2'W, is a fire engine-red powder-coated steel sculpture in his semaphore series of sculptures.
There are over 40 sculptures on display on the grounds of the Auberge du Soleil ,with work by sculptors John Battenberg, Bill Wareham, Peter Forakis, Charles Ginnever, Robert Holmes, Lucia Eames, Dan Dykes, Carl Dern and Lisa Demetrios. The sculptures are offered for sale by I.Wolk Gallery, St Helena, California.

Boone Sculpture Sculpture Garden
Pasadena City College
1570 E. Colorado Rd.
Pasadena, CA 91106
(626) 585-7123
Thirty sculptures surround a "Garden of Activities" combined with a fountain and a stream running the length of quadrangle. Designed by New York artist Jody Pinto.

California Scenario
as seen in Southwest Magazine Artnut's favorite sculpture gardens
artist: Isamu Noguchi
2 Town Center, South Coast Plaza
Bristol at Highway I-405
Costa Mesa, California
You may need more than a GPS map to find this treasure! Situated on a 1.6 acre plaza between two monolithic glass boxes California Scenario is an analog of the whole state from Mexico to the Oregon border, and the Pacific Ocean to the Colorado River, in abstract format. Excellent, very understated. It is an absolute gem in the middle of the Costa Mesa shopping center and business office cacophony... Bring a lunch and fly a kite, I did.

B. Gerald Cantor
Rodin Sculpture Garden
(Virtual Tour), Stanford University
Great place to see works by Rodin.
Also many sculptures are scattered around the Stanford Campus : here's a map .

Chapman University Campus Sculpture Gardens
1 University Drive
Orange, CA 92866
(714) 997-2400
Started in 1861 as the Hesperian College the school is now Chapman University. It is the largest independent college in Orange County. Placed throughout the 42 acre campus are sculptures by, Richard Barr, Benbow Bullock, Da Versico, Jerome Kirk, Rosalind Mazzili, J.P. Jones, and William Wareham. The campus also includes building from the turn of the last century that are in the National Register of Historic Buildings.
City of Hope : The Sculpture Garden
National Medical Center
1055 Wilshire Blvd.
Los Angeles CA 90017
(213) 202-5735
"Art is Healing. Art is Hope" motto of the City of Hope Arts Council, one of the leading health care and cancer research centers in the country. A wonderful collection of outdoor sculptures by recognized Southern California sculptors. Works includes sculptures by: Robert Brady, Guy Dill, Michael Todd, Charles Arnoldi, Peter Reginato, Seiji Kunishima and Gwynn Murrill.

Contemporary Sculpture Garden
Los Angeles Municipal Art Gallery
Barnsdall Park
4800 Hollywood Blvd (Vermont Ave)
Hollywood, CA 90027
T (323) 660-4254
Enjoy the city view from the Olive Hill hilltop location of this cultural center. The park was the creation of Aline Barnsdall, who commissioned Frank Lloyd Wright to design the famous Hollyhock House in 1919. The house was to be the centerpiece of an arts community, with theaters and actor's dorms. It did not work out that way. In 1927 she donated the land and buildings to the City of Los Angeles. The City has has since developed the site into the LA Municipal art gallery and Theater, to provide space for visual and performing arts.
After the Northridge 1994 earthquake the park was closed for repairs and remodelling. The process included the opening of the new Contemporary Sculpture Garden. One of the first exhibitions will include metal sculptures by Michael Todd. Changing sculpture
exhibitions will follow on an on going basis.
The Hollyhock House is open to the public on scheduled tours.
CORNERSTONE festival of gardens
23570 Hwy 121
Sonoma, CA 95476 Tel 707 933-3010
info@cornerstonegardens.com
Across the highway 121 from Gloria Ferrer Winery situated on nine acres, are 17 garden plots. Each separate garden is designed by regional and international landscape architects. Opened summer of 2004 by founder Chris Houghie, the gardens are designed to show off the professional design skills of the landscapers.
Gardens to keep an eye pealed,are Eucalyptus Soliloquy by Walter Hood of Hood Designs, Berkeley; who uses interleaved eucalyptus branches woven through a matrix of steel garden fencing almost 12' high; garden 16. Small Tribute to Immigrant Workers by Mario Schjetnam, Grupo de Di Diseno, Mexico City, Mexico, which features a reflection pool with a steel walkway border and a wall posted with photographs depicting various scenes of social activities. The Garden of Visceral Serenity by Yoji Sasaki, Osaka, Japan which features man made patches of nylon woven fabric stretched over undulating Hills and valleys, reaching out into the distance. Bad taste: Daisy Border by Ken Smith which is a plot filled with plastic windmills.
It is still early in the life of these gardens to judge the results of time and growth of the plants. It is certainly worth a walkabout in its current stages of development. In addition to the gardens are several stores that sell garden-related objects, plants and supplies. A cafe will open soon. Ample free parking. There is an entry fee to the gardens but not to the shops. There little evidence of sculpture in any of the gardens at this time. The gardens themselves seem to be site specific aesthetic pieces.
If you are on the way to visit or coming back from the Di Rosa Preserve on Highway 121 you will see Cornerstone gardens as you approach the Sonoma Airport.

"Cosmos"
350 N. Sunrise Ave
Roseville, CA 95661
Anyone who has driven from Sacramento, on Interstate 80, on the way to Lake Tahoe in the past fifteen years, has seen "Cosmos". as you go
through the north end of Roseville, on the east side of the highway.But did not know quite what it is, or what it is not. Well, it is not the entrance
to an auto mall, or an FAA aid-to navigation for airplanes or spacecraft, or a climbing gymboree being field tested for stress and strain.
It might even be the marker for the western entrance to the Great Tunnel (hole) to China, now under construction.
What it is... "Cosmos" is an 80 foot high abstract fire-engine red, painted steel sculpture, made by the well known sculptor, Aristedes Demetrios.
The sculpture was installed and donated to the City of Roseville in 1990, by a local real estate developer. You knew that all the time, but just forgot to mention it.
Should you stop to see "Cosmos" up close, nearby is the, one acre, Roseville Sculpture Park. The park has annual shows of sculptures made by local school
children.
ENJOY!
De Young Museum Sculpture Garden
Golden Gate Park
50 Hagiwara Tea Garden Drive
San Francisco, CA 94118 Tel (415) 863-3330
Reminiscent of landing on the jungle airstrip, and seeing the colossal archeological ruins of Tikal towering over the trees and undergrowth, is how I felt when seeing the new De Young Young Museum for the first time, yesterday. Awesome! It is someting that has to be expderienced to really appreciate the dramatic impact the building and landscaping have on Golden Gate Park and environs.
Jacques Herzog and Pierre de Mueron, architects of the new world class De Young Museum, are to be congratulated. Same kudos go to Harry S. Parker and Dede Wilsey for shaking up staid old San Franciscans into not only allowing such a wonderful structure to be built, but also for raising over $175 million privately, to build it! Bravo!
"Drawn Stone" , a site specific multiple element sculptures is made from stones quarried in Yorkshire. A continuous man made crack runs from the roadway, up through the exterior courtyard to bisecting two boulders on the way to the main entrance of museum. This not so subtle reminder of nature's powerful earthquakes on the San Francisco scene, and man's ability to work around it. "Drawn Stone", in my mind, is one of Andy's finest sculptures.
In the sculpture garden itself there are impressive sculptures by Noguchi, Beverly Pepper, James Turell, Bob Arneson, Louise Nevelson and Claes Oldenberg and Coosje Van Bruggen. Treat yourself to a visit to the New De Young...
Djerassi Artist-in-Residence Program
Bear Gulch Road
Woodside, CA
On the Pacific side of the Coast Range directly west of the Stanford campus are 500 plus rolling acres of grasses, wooded areas and smashing vistas of the ocean eight miles down the hillsides. SMIP is the sign on the gate; Syntex made this possible! Founded by Carl Djerassi, who started the Syntex Corporation, in 1982, as one of only 18 then artist-in-residence centers in the country, it is still going strong.
On the grounds in often hidden nooks and crannies are 40 site specific sculptures by artists that were in residence and left their imprints. They include: David Nash, Joyce Guatemala, Mauro Staccioli, Mark Reeves, Mel Henderson and John Roloff, among others.
Tours are by reservation, and it may take patience, but the wait is worth it.


* di Rosa Preserve
Winery Lake, Napa, CA
Are you ready for a two and one half hour visit to the most under stated cultural, art, architecture, and nature preserve in California? The Di Rosa Preserve! On over 200 landscaped acres, are four buildings designed for the display of over 2,000 pieces of visual art done by over 700 Bay Area artists, and the collection is still growing. The preserve contains the personal collection of Rene di Rosa, who is the founder. All of the art was selected by him. Surrounding the four large galleries, are beautiful vineyards on rolling hills that include the 35 acre pond, Winery Lake. And then there are the Canada Geese and Peacocks...
The Di Rosa Preserve is open year round for guided tours which are open to the public by reservation, and limited to 25 persons per tour. Tours are available for both the indoor art and walking tours of the meadows where large scale outdoor sculptures are on display. Bullock is delighted to have six of his sculptures in the permanent collection of the Preserve. His aluminum "A Rocket's Red Glare" and "Terra Incognita" welcome visitors as they enter the grounds on the paved entry drive at the Gate House.
You will not be disappointed!

Frederick Weissman Collection
265 Carolwood Drive
Bel Air, CA (310) 277-5321
(no web site)
Open to the public by reservation only. Docent tours limited to 15 people. His collection which was accumulated over 40 years has work by prominent international artists: Henry Moore, Magritte, Warhol, Lichtenstein, Botero, Rickey, and Viola Frey. There are over 25 outdoor sculptures on the grounds. The tour Takes 2 hours and is time well spent. Admission is free.

J.Paul Getty Museum
1200 Getty Center Drive,
Los Angeles, CA 90049
(310) 440-7305
The vast complex of buildings and landscaping was the product of Richard Maier, architect. Just now ,2000, the grounds and gardens designed by sculptor a Robert Irwin are beginning to show signs of vitality and are maturing to complement to severity of the of the buildings designed by Maier. A an occasional sculpture pops up here and there, but not enough yet to call sculpture garden.

greenmuseum
518 Tamalpais Dr.
Corte Madera, CA 94925
Tel: 415 945.9322
Sam Bower, Director
Green Museum is a virtual online new museum of environmental art. In its incipient stages, the site is being developed as an international clearing house for environmental art projects, bulletin board and chat room as well as listing of resources for artists working in this new exciting arena of green art. Good luck, Sam!

Imago Galleries
45-450 Hwy 74, 1 block south of El Paseo
Palm Desert, CA
Breathtaking new two story contemporary state of the art gallery opened in Fall 1999. It was designed to display art glass, and large scale sculptures both indoors and out. Complete with adjacent sculpture garden. Changing exhibitions include shows or work done by Fletcher Benton and Dale Chiluly.

Public Art in LOS ANGELES
guide to public art in the downtown area, the University of Southern California & city limits.

Walking tours of Downtown Los Angeles
usc.edu/dept/geography/losangeles/lawalk
lacity.org/ANGELSWALK/index.htm
laconservancy.org/tours/downtown

Los Angeles County Museum of Art
Los Angeles, CA

LA MOCA
Los Angeles, CA

Natural Elements Sculpture Park
Santa Monica, CA (310) 458-8350
Ten site specific sculptures installed on lesser used sections of the Beach from Ocean Park to the Pacific Palisades, "Singing Beach Chairs" by Douglas Hollis is the best known and easily recognized.

Montalvo Arts Center
PO Box 158
Saratoga, CA 95071-0158
408 961-5800
Situated on 175 acres of hiking trails and gardens "Sculpture on the Grounds" offers changing exhibitions of cutting edge sculpture. Recent shows included outdoor environmentally- correct site specific sculptures, ala Andy Goldsworthy.
Open year round it is best to call ahead for hours an and update of what is showing currently. In addition to the sculpture gardens Montalvo offers artist-in-residence programs, performance art, and outdoor and indoor music concerts.
Museum of Latin American Art
628 Alamitos Ave.
Long Beach, CA 90802 Tel: 562-437-1689 info@molaa.org
The Museum itself was founded in 1996; and September, 2005, the Museum opened its new Sculpture Garden to the Public. The 15,000 square Foot garden has many intimate , multi-level viewing viewing spaces, as well as an outdoor stage for performing arts. Currently there are 12 sculptures in the garden including work by Benito Rosas and Fernando de Szyszlo from Peru; Alejandro Quijano, Alberto Vargas Aguirre and Marco Aldaco- Mexico; and Cecila Miguez of Uruguay. The indoor galleries have 700 works of art plus changing exhibitions; currently on display is "The Universality of the Immaterial" with kinetic art by world famous Venezuelan sculptor: Jesus Soto, through March, 2006.
MOLAA is developing a an accompanying garden of cacti and plant indigenous to Latin and South America. Arriba y Adelante!

New Guinea Sculpture Garden
Stanford University, CA
A permanent outdoor garden created by 10 artists from Papua New Guinea working on-site in 1994.

Meadowsweet Dairy
811 Meadowsweet Dr.,
Corte Madera, CA 94925
tel 415 927-8112
Meadow Sweet Dairy got its name from their studio which is an old Marin dairy barn built in 1926. It is a collaborative of five sculptors who work together to make studio sculpture and site specific outdoor sculptures using natural objects like driftwood, stones, tree stumps, roots, logs and stumps. The nuclei are: Dan Ustin; Sam Bower; Henry Corning; Glenda Griffith and Alan Leavitt. Other artists work with them from time to time as well. Three of their site specific pieces are on display at the Di Rosa Preserve, Napa.
Some of the natural objects remain as is, while others are sandblasted and polished depending what is needed to reveal the objects as sculpture. Many of the materials have been marked by prior human activity.
An ongoing activity is working with scientists in the Farallon Islands to concrete rubble into a sculptural form to create a bird nesting habitat and a blind to study them. Ecological Art says it all!

The Oakland Museum of California Sculpture Park
1000 Oak Street
Oakland, CA 94607
(510) 238-2258
Located on top of a multiple tiered building designed by Eero Saarinen before he died, is a well laid out landscaped sculpture garden. Kevin Roche and Geraldine Knight Scott were the landscape architects. The sculpture follows the contours of the building levels. This design has been accepted by other museums around the world.
Sculptures include work by artists: David Gilhooly, Peter Voulkos, Bruce Beasley, Robert Arneson, John Roloff, Mark di Svero, Stephen de Staebler, Michael Hazier, George Rickey, Fletcher Benton, Viola Frey and Ruth Asawa. The museum also operates an additional sculpture garden near 11th and Broadway in downtown Oakland with changing exhibitions. The museum has also installed Benbow Bullock's painted steel triptych, "Meknes" in a high profile city park in front of the landmark Kaiser Building overlooking Lake Merritt, a gift of Walter Shornstein in 1999.
Perhaps unique among museums, the Oakland Museum features the display of relevant objects relating to the natural sciences, history and visual arts of California. It is a wonderful place to drift around in. Also a good restaurant is surrounded by art.

O'Hanlon Center for the Arts
616 Throckmorton Ave
Mill Valley, CA 94941 T 415 388-4331
"Sight & Insight" was started by Ann and Dick Hanlon, both artists, in 1969. Located on a beautiful four acre idyllic hillside near the center of Mill Valley, the Art Center was created to allow people of all ages to discover and create their own creative expression. The site includes a 2,000 square foot art gallery which has monthly changing exhibition,and other buildings that are used as studios for both the visual and literary arts. There is a very active teaching and workshop programs for both types of expression.
On terraced surfaces on the contoured hillside are locations to display outdoor sculptures. Some were were created by Dick O' Hanlon who was professor and chairman of the sculpture department at University of California, Berkeley, for many years. Queenie Taylor is the Arts Administrator.
*Orange County Museum of Art
Costa Mesa and Newport Beach, CA

Palm Spring Desert Museum
101 Museum Drive,
Palm Springs, CA 92262
In addition to changing exhibitions in a well designed new contemporary museum building, the museum has two adjacent sculpture gardens landscaped with a feeling of the desert surroundings. The Marcuse sculpture is located on the north side of the building off the Cafe, and the Elrad sculpture garden is of equal size and adjacent, but separated from the Marcuse. A sculpture show stopper is Mark di Suvero's sculpture that includes the actual bucket shovel from an old vintage steam shovel.

Palo Alto Baylands
Byxbee Park
Palo Alto, CA
Built on a 150 acre garbage dump, The surface of the dump covers a pile of garbage up to 60 feet deep, covered by one foot of impermeable clay, and then covered with two feet of topsoil. Cost so far: $1.4 million. There are no signs of vegetation or trees. The roots would rupture the plastic sheeting. There are no playing fields, lawns, playgrounds or picnic grounds. Man made art forms cover portions of this man made series of hillocks. Take a look and see what a retrofitted garbage dump looks like when George Hargreaves, landscape architect, gets his hands on one in the Bay Area.
Paradise Wood Sculpturegrove
4545 Thomas Lake Harris Drive
Santa Rosa, CA 95403 Tel: 707 528-9463
On the grounds of the Paradise Ridge Winery in the Fountaingrove area of Santa Rosa, is a half mile long sculpture park on the entry drive. Changing exhibitions stress the work of regional artists working in ceramics and wood.

Queen Califia's Magical Circle
Iris Sankey Arboretum
Kit Carson Park
Escondido, CA (San Diego County)
Queen Califia was a black mythical queen of the Amazons according early California folklore. More later...
Niki de Saint Phalle, a French-American artist, is internationally known for her playful totemic large scale "Nana" sculptures. Perhaps the most famous is the fountain in the Pompidou Center, with kinetic sculptures crated by she and her late husband Jean Tinguely. Another gem is her "Sun God", a sculpture large enough to walk through, commissioned by the Stuart Collection, 1983, for the UCSD campus in La Jolla.
When she moved to California she was inspired by the stories about Califia when she moved to La Jolla, California in 1994. The culmination of creative inspiration is the Califia magic 120 foot diameter circle of totemic friendly fun loving sculptures, she donated to San Diego County before died in 2002. The Circle opens in October 2003 on a 12 acre natural habitat in Kit Carson Park, Escondido, California; one half hour north of San Diego on I-15.
A dramatic part of the Magic circle is the Snake Wall and Maze, a weaving pulsating circular wall 400 feet in length with heights ranging from four to nine feet. Writhing playful serpents open the way into a maze of walls and floors covered in black, white and mirrored tiles. Exiting the maze, you come upon an open courtyard. There are nine free standing colorful whimsical totemic sculptures in the garden based on American Indian, Pre-Columbian and Mexican art; enhanced by the artist's fantastic imagination. Queen Califia and Eagle Throne measure 24'H x22'L x 20'W; fiberglass coating over a steel armature and decorated in wild colors.
Bravo Escondido! Bravo San Diego!

St. Supery Vineyards and Winery
8440 St. Helena Hwy
Rutherford, CA 94573
Tel 707 963-4507
President and Director: Michaela Rodeno
email: divinecab@stsupery.com
In 1986, the Skalli family, a third generation of French Winemakers (Languedoc), acquired an 56 acre historic vineyard in the Rutherford appellation. This site is the home of the St.Supery Winery, the historic Atkinson House, and a beautiful landscaped campus that invites visitors wander and linger. The winery is famous for its Cabernet Sauvignons and Merlots, and most recently, a wonderful Sauvignon Blanc. In addition to the winery acreage, St. Supery has several other vineyard holdings totaling over 1,500 acres.
Late 2002, Benbow Bullock, was invited to install ten of his painted steel geometric abstract large scale outdoor sculptures. Intense bright solid colors do not frighten this sculptor. Bright colors are featured and enhance the elegance of the greens and browns of the lawns and vineyards, in contrast.
Most recently, Benbow is installing a fire engine red endless spiral steel auger, over 30 feet high at the entry to the winery. When the installation is completed, the sculpture will be a welcome marker to St. Supery, on Highway 29, the main thoroughfare of the Napa Valley.

San Diego Museum of Contemporary Art
MCASD
San Diego, CA
Sculpture Garden at La Jolla, CA

San Diego Museum of Art
Mary S. Marcy Court and Sculpture Garden
Balboa Park
San Diego CA
Great place for lunch in the courtyard restaurant adjacent to sculptures by Louise Nevelson, Henry Moore, George Rickey and Calder.

San Francisco art-SITES
The Indispensable Guide to Contemporary Art-Architecture-Design
An invaluable addition to the Bay Area art scene. Well written, by an author who has written similar illustrated guide books on Spain, France, Britain and Ireland, and Paris.

Sculpture Jam
Sebastopol, Sonoma County CA
Annual October event where teams of artists get together in a lumberyard in down Sebastopol and participate in making sculptures. Sponsored by Sebastopol Center for the Arts,

SculptureSite Gallery (Sonoma)
(Formerly A New Leaf Gallery)
23570 Arnold Drive, Hwy 121
Sonoma, CA 95476 707 933-1300

Sculpturesite Gallery (San Francisco)
Convention Center Plaza
201 3rd Street, Suite 102
San Francisco, CA 94103
T 415 495-6400
Owners: Brigitte Mickmacker and John Denning
These two locations replace their Berkeley site at 1286 Gilman St.
Sculptures galore!
Shibui Fine Arts
PO Box 333
Little River (Mendocino), CA
(707) 937-2787
Richard and Laoma Yaski are creating two new 5 acre sculpture gardens overlooking the Pacific Ocean just minutes from the town of Mendocino. Stay tuned for great expectations!

Skirball Museum
Los Angeles, CA
Emphasis on Judiac related art and culture.

Steven Oliver Ranch and Sculpture Garden
River Road, Geyserville, CA.
By appointment only. Private vehicles not allowed. One of country's premium
private reserves for site-specific art. 17 installations in the project.
Tours limited to organized visual-arts groups.

Stone River
Hand made megalithic experience
Stanford University Campus
Palo Alto, CA
"Stone River", a 320 foot long sculpture on the Stanford Campus was completed by British sculptor, Andy Goldsworthy, in late August, 2001. It was made from sandstone from campus buildings destroyed in the 1906 and 1989 earthquakes. Goldsworthy brought eight skilled stonewallers from England and Scotland to erect the sculpture over a period of three and a half weeks. Set upon 3 acres across from the Cantor Center for the Visual Arts Building, the sculpture is triangular in cross section four feet in height and approximately four feet across at the base. Over 700 coping stones make up the apex of the stone ridge, each hand shaped at a different angle to fit the wall precisely.
The serpentine sculpture lies in a trough below grade, with the stone ridge apex almost level with the surrounding ground. To a viewer it appears like it is an archaeological dig. The artist likes the idea that over time the land around the sculpture will return to its natural state. Many of Goldsworthy's works incorporate used stone. "I like the relationship to the past life of a material-of one hand placed upon the other."- Goldsworthy.
To me, the stone sculpture has a life of its own both physically and mystically. It is a place that wants you to come back again and again; much like Stonehenge, Carnac and the Standing Stones of Stenness... A truly intellectual and psychic experience. It stands alone in Silicon Valley.

* Stuart Collection UCSD
San Diego, CA
Many site-specific sculptures on the campus of UCSD. Ask at the library for a map. Sculptures by Allen, St. Phalle, Robert Irwin and Bruce Nauman.

"Sundial Bridge"
Half way between Sacramento and the Oregon border is a new stainless steel $23.5 million suspension footbridge over the roiling Sacramento River, designed by Santiago Calatrava calatrava.com world famous architect. On top of that, the bridge functions as an abstract sundial, as well as let pedestrians cross the river in Redding, California. This is a big deal for a town that's only known fame was for fast food restaurants or a place to stop for gas and leave; truly just a wide spot in the road.
Redding, a very conservative town of 80,000 population probably would have preferred a covered bridge. Instead they now have a contemporary suspension bridge that is supported on cables attached to a steel pylon that is leaning at the same angle as the latitude of Redding, and pointing due north. At high noon the sun illuminates the hollow pylon tower and makes it glow during the lunch hour. At other hours, days and months its shadows mark the passage of time in shorter or longer shadows cast on the ground.
The Mc Connell Foundation with it $300 million endowment, convinced Santiago Calatrava to design and build the bridge, his first in this country; although he has five others under construction elsewhere. The footbridge, no cars allowed, connects an arboretum with the new Turtle Bay Exploration Park Museum of Natural history, both of which were also financed by the Mc Connell Foundation. The fortunes of Leah and Carl Mc Connell were early purchases of stock in the Farmers Insurance group by Carl's parents in 1928.
Soon after the opening of the bridge in April 2004 Redding may become a tourist destination, or it may not. In any case, it may be the only sundial bridge in Northern California. Actually, it looks great from here!
Source: NYT, Thursday, February 19, 2004, page D1 & 7.
* Tasende Gallery,
La Jolla & Los Angeles, CA
Best place in the country to see the sculptures of Chillida.

University of California- Berkeley Outdoor Art
Campus Landscape Architect
1936 University Ave #1380
Berkeley, CA 94720-1380
tel 510 643-9363
There are over 33 outdoor large scale out door sculptures on the UCB campus. I dare you to find them! Artists include: Emmy Lou Packard, Ralph Stackpole, A. Sterling Calder,(Alexander Mobiles Calder's Father), Richard O'Hanlon' Linda Fleming, Jerome Kirk, Victor Bergeon, Arnoldo Pomodoro and Alexander Calder.
However, there is a pamphlet with a map at the above address called "Outdoor Art at the UCB: A Century of Art", if you would like some help.
* University of California at Los Angeles UCLA
Franklin D. Murphy Sculpture Garden
405 Hilgard Avenue, Westwood,
Los Angeles, CA 90024 (310) 443-7003
In the 1960's when UCLA Chancellor Franklin D. Murphy started the sculpture garden, he assured the Regents that all sculptures would be donated and not require university funds. The garden with 14 sculptures in the core collection with work by Henry Moore, David Smith, Jacques Lipchitz's The Bathers, and Barbara Hepworth's Oval Form. The UCLA Art Council, alumni and local philanthropists continue to give pieces which total now over 60.
The current permanent collection has work on display by Alexander Archipenko, Jean Arp, Alexander Calder, Anthony Caro, Lynn Chadwick, Henri Matisse, Aristide Maillol, George Rickey, William Turnbull, and William Tucker.

University of California At Davis Aboretum
"Structures in the Landscape"
Davis, CA
All sculptures are the work of UCD students. An emerging sculpture garden, is the product of Barbara Shawcroft, professor of Design.

Watts Tower
1765 E. 107th Street,
Los Angeles, CA
Built by Sam Rodia, an Italian born laborer from 1925-1954. He was born in 1875 and died in Martinez, CA in 1965. The towers are open form made of rods and bars coated with concrete and plaster. Found objects are embedded on the surface to create an overall mosaic effect. The towers are located in an urban mostly black neighborhood now. When Rodia started on the towers Watts was in the countryside. These magnificently incredible naive art forms are a splendid expression of self determination in the face of extreme disadvantages. No one knows why he built it or if it symbolizes some mission or myth that he may have had.
In 1959 the city gave permission to demolish the towers as a public nuisance, but were saved by the efforts Cartwright and King who bought the property and formed an association of helpers to rebuild the project which was a terrible state of disrepair after the Watts Riots. To get permission to restore the towers the building department made them show that the structures could withstand a 4.5 metric ton test, equal to a 75 MPH wind storm. The structures won handsomely. Ironically, now the LA Department of Cultural not only operate the Towers as a park, but also spent over $1.0 million to repair it!


Great job on a wonderful service. Benbow.
We mentioned you in an issue of studio NOTES a while back, and will mention the revision in the next issue as well as have a link from the new site when it is redesigned. Of course, there is already a link on the site.

Best, Benny Shaboy, Publisher,
studioNOTES
Annual Outdoor Sculpture Festival
Loveland, Colorado
This a big deal!

Museum of Outdoor Arts
600 East Orchard Road, Englewood, CO
400 acre Colorado business park called Greenwood Plaza has installed 55 sculptures on the grounds.

CONNECTICUT

The Aldrich Contemporary Art Museum
285 Main Street
Ridgefield, CT 06877
Tel: 203-438-4519
The mission of the Aldrich Museum is the exhibition of significant and challenging contemporary art with an emphasis on emerging and mid-career artists. The museum has no permanent collection and develops changing exhibitions. Many of the sculptures that had been on display in their sculpture garden have been deacquisitioned, while a new museum building was being built. A new sculpture park is in the process of being installed. The art on display is carefully selected, and placement is carefully planned. It is worthwhile to seek this gem out in your travels.

"The Family" 1957
Granite sculptures (Endangered)
Isamu Noguchi
Location CIGNA Campus
Bloomfield, Connecticut
Two large Modernist buildings were designed by architect Gordon Bunshaft , Skidmore, Owings and Merril for the Connecticut General Life Insurance Company, in 1957. which became their headquarters 617 acre campus. Isamu Noguchi was commissioned to make two impressive outdoor large scale granite sculptures, "The Family". Five years later the company became known as CIGNA, and moved its headquarters to Philadelphia.
Now, June 2006, Cigna wants to keep only the parking garage, and tear down all the architecurally significant buildings and build a golf course, hotel and commercial center. The CIGNA Campus is now on the 11 Most Endangered Places List ,of the National Trust for Historic Preservation,
It is not quite clear what CIGNA wants to do with Noguchi's "The Family". CIGNA still occupies one of the buildings, which is near the Noguchi sculptures. There is still time to see "The Family"! But hurry...


David Hayes, Sculptor
905 South Street
Coventry, CT 06238
(860) 742-2730
(by appointment)
Connecticut based sculptor studied with David Smith at University of Indiana. Fifteen acres of his "Sculpture Fields" contain over 200 steel sculptures that date from the '50s to the present time. Interesting shapes and lots of bright colors.

Seaside Park
On Long Island Sound
Bridgeport, Connecticut
This 325 acre park was designed Calvert Vaux and Frederick Law Olmstead, is now home to over 40 outdoor large scale contemporary sculptures. Sculptures in the park include work by Peter Lundberg, Claes Hake, Harry Gordon and Susan Griswold. Also in Bridgeport at Russo Park are a small Mark di Suvero, and others by John Clement and Joel Graesser.
*Yale Center for British Art
New Haven CT

Yale University Art Gallery
New Haven CT

Beinecke Rare Book and Manuscript Library Sunken Courtyard
Yale University
New Haven, CT
One of Noguchi's best known outdoor works is this sunken courtyard consisting of a marble standing cube, a circle standing on edge and a pyramid. All in white marble. All elements are slightly off balance and deliberately imperfect, creating a stunning subtle Zen-like effect.

Ann Norton Sculpture Garden
253 Barcelona Road
West Palm Beach,FL 33401
Tel: 561-832-5328
Cynthia Palmieri, Managing Director
annorton@ansg.org
Located on the Intercoastal Waterway, near downtown West Palm Beach, is the 2 acre Ann Norton Sculpture Gardens, her residence, and art studio. Over 100 sculptures by the artist are on display. including eight large scale red "brick" sculptures, heroic in scale, on the grounds of the garden. They are strong references to pre-Columbian Mayan art and architecture. Over 300 species of palm trees are placed in a well landscaped
formal garden setting. Still, you can't help but to think that Tlaloc, the Mayan rain god, might pop out of the foliage at any time.
Another large scale group of standing figures are made with Norwegian granite, hinting of Vigeland's influence, a la Frogner Park in Oslo. In spite of derivative influences, Norton's own style comes through loud and clear. While she was alive (1905-1982), her work was shown at both the Whitney, and the Guggenheim Museums in New York. Her late husband, Ralph Hubbard Norton, was the president of the Acme Steel Corporation, Chicago.
Be sure to check out days and hours the Gardens are open, Palm Beach has a short winter season. While in the area, drive down Ocean Avenue along the Atlantic Ocean and see the large, Great Gatsby era, Spanish style ocean front homes designed by the Mizners, architects.
Art in the Park
Ft. Zachary Taylor State Park
Key West, Florida
Started in 1995 by sculptor Jim Racchi, Art in the Park, is annual event with work by emerging and established sculptors. The changing exhibition allows sculptors to select a site within the park of their own choosing to display their sculpture, often site specific, to best advantage. In 2003 over 39 sculptures were on display created by 32 local and visiting artists. Newcomers are encouraged to join in the 2004 exhibition.

Bass Museum of Art
2121 Collins Ave
Miami Beach, FL 33131 Tel (305) 673-7530
Designed Arata Isozaki, the New Bass Museum is a show stopper. Diane Camber, is the executive Director and Chief Curator. The museum has changing exhibitions. The current show is "In_Out", as in indoors in the museum building and outdoors in the sculpture park. Outdoors one will find sculptures by Dennis Oppenheim, James Surls. Jose Bedia, Robert Chambers and Lin Emery. Indoors: Ann Hamilton, Tony Cragg, Nam June Paik, Sterz, and Nadia Ospina. Cool.

Crealde School of Art Sculpture Garden
600 St. Andrews Blvd.
Winter Park, FL 32792 (Orlando)
tel: 407 671-1886
Founded in 1997, the Crealde sculpture garden represents the work of many Central Florida sculptors. Over 50 outdoor sculptures are on display. Sculptures by Cheryl Bogdanowitsch, Paulo Buggiani, Karen Smith and Michael Galletta are included.

The Sculpture Park @ FIU
Frost Art Museum Florida International University
SW 107th Avenue and 8th Street,
Miami, FL 33199
Tel (305) 348-2890
In 1994, art collector Martin Z. Margulies donated over 50 sculptures for placement on 26 acres of land on the campus of Florida International University. Currently there over 80 sculptures on display by international sculptors. The collection includes work by de Kooning; Jean Du Buffet; Richard Serra; Louise Nevelson and Isamu Noguchi. The sculpture is open daily and free to the public.

Sarasota Season of Sculpture
Between Gulf Stream and Orange Avenues
Sarasota, FL
Eighteen sculptures, all over ten feet high are aligned along a two-thirds of a mile in downtown Sarasota. Hoping to have started an annual event the sculptures will be on display through March 29, 2001. Artists include Terrence Karpwicz, Jorge Blanco and Michael Dunbar.

GEORGIA

Howard Finster's Paradise Gardens,
A Folk Art Haven
84 Knox St.
Summerville, GA 30747
706 857-2926
Howard Finster died of a heart failure October, 2001. A prolific artist he created over 36,000 pieces of art, all numbered. He retired as a Baptist preacher in 1965. In the mid-70s he claimed to have a calling from god to build a sculpture park on two acres of swampland which he called Paradise Garden. Nearby he built "World's Folk Art Church", which has a 16-sided cupola he built himself. Reminiscent of Rodia's Towers in Watts, his structures, sculptures and mosaics are fascinating for their complexity and naivete. But not to let that fool you, he had a one person show at the Phyllis Kind Gallery in Chicago in 1979 and an exhibition Museum, Atlanta in 1995.

*The Contemporary Museum of Honolulu,
2411 Makiki Heights Drive, Honolulu. HI
Wonderful museum in a contemporary building, formerly a residence in the upscale Makiki Heights neighborhood. Founded by the Honolulu Academy of Arts and now independent. The outdoor collection includes: Rickeys, Viola Frey, Charles Arnoldi, Wesselman & Bob Arneson. Beautiful setting, a treat includes the almost hidden museum cafe.

* Honolulu Academy of Arts
Honolulu, HI
Subtle blending of Eastern and Western paintings and sculptures. Good selection of work by David Smith.

Holualoa Foundation for Arts & Culture
Holualoa, Hawaii (808) 324-1335
Sculptors as advisors include Deborah Butterfield, John, Lisa Bartsch and Shigeko Nakasone. The foundations provides hands on workshops about printmaking, textile art, ceramics (Pit fire and Raku) as well as having sculptures on display. In addition there are four galleries in or nearby Holualoa. Shirley Bell, President.

Na Aina Kai Botanical Gardens
4101 Wailapa Road
Kilaeua, HI 96754 Tel: 808 828-0525
email: info@naainakai.com
Who wudda thunk it? A 240 acre sculpture park, desert garden, formal garden, wild garden, beach/meadow and hardwood plantation in Hawaii!
Gotta to be kidding. Yes, it is real. And it is on the north, or wet side of the Island near to town of Kilaeua. Founded by Ed and Joyce Doty on athe formerly private Kilohana Plantation estate. There are over 60 cast bronze representational sculptures featuring subject matter like family, children, multicultural, wildlife and fantasy. While not your state-of-the-art break through contemporary fine art, the overall quality of the sculptures is very professional. Na Aina Kai also offers sculpture lessons, writers' workshops, jazz concerts and theater performances. Nothing shabby here!
Around Chicago
Millenium Park
Northwest Corner Grant Park
(Over the old Illinois Central RR yards)
just north of the Art Institute on Michigan Avenue.
Highlight of the new park is the 25 acre Pritzker pavillion, another Gehry-designed architectural statement, like Bilbao. A collection of highly polished stainless steel arcs over 4000 seats, and leave room for another 7,000 persons on the lawn. A pedestrian bridge over Columbus Drive links the Millenium to the rest of Chicago's lakefront system.
A featured sculpture, is Anish Kapoor's, 66 feet long and 33' high stainless steel rendition of an Oscar Meyer weiner mobile. It is high enough for people to walk under it. Nearby is a fountain designed by Barcelona artist Jaume PLensa, that has two 50 foot high towers that stand in a reflecting water pool 1/8th inch deep. As water comes falling down the sides of the towers, huge video images of 1,000Chicagoans are projected from glass blocks in the the high towers. As an also ran, is is a three block long ice skating rink that only operates in winter months. Chicago does not mess around!
Cedarhurst Sculpture Park
Mitchell Museum,
Mt Vernon, IL
(1 hour drive from St.Louis)
618 242-1236 Bonnie Speed, Curator
The park was started in 1991 on 85 acre of the estate of John R. Mitchell, has many sculptures in changing exhibitions that are on two year loans from other sculpture parks and art dealers such as Laumeier Sculpture Park, Socrates Park, Andre Emmerich and Leo Castilli for starters. This approach to changing shows with borrowed sculptures is attracting international attention.
At the entrance to the Park is Sabine Women a painted steel giant work in the Lieberman tradition. At Cedarhurst's expense, artists are invited to help site their work and comment on conservation techniques.
Martha Enzmann's Dancers are floating sculptures of a man and woman dancing. Activated by underwater cables to change the pace and directions of the figures as the wind velocity and direction changes.
Bruce Johnson's Big Bang made of redwood and hammered copper is also on loan. It came directly from Socrates Park in New York, but was created in the redwood forest studio of the artist 50 miles north of San Francisco.

Chicago Athenaeum International Sculpture Park
Schaumburg, IL
A satellite of The Chicago Athenaeum: Museum of Architecture and Design in downtown Chicago, the sculputure park is an hour drive from the Loop, in a 20 acre well-landscaped forest, meadow and natural prairie. Well executed sculptures by Jerry Peart; Dennis Oppenheim; Jarle Rosseland (Norway); Klaus Vieregge (Germany); Apostolos Fanakidis (Greek) and Nina Levy. Well worth the drive.
Benbow Bullock's 24 foot high silicon bronze sculpture, Heroic Encounter was dedicated into their permanent collection May 26, 2001.
Chicago Museum of Contemporary Art Sculpture Garden

Chicago Museum of Science & Industry
Front Lawn,
57th St.and Lakeshore Drive
Chicago, IL
Changing exhibitions are located in the former parking lot of the museum which is now underground.
Evanston Art Center
2603 Sheridan Rd
Evanston, IL 60201
(847) 475-5300
Herb Parker's Grosse Pointe Passage is front and center literally in the front yard of the Art Center. It consists of a 60 foot long rammed-earthen passage complete with a colonnade with grassy sod cover the columns and roof. It ties into 18 foot tower made of rammed earth, sod and steel armature. Over 24 tons of pre-mixed material went into the construction of site specific sculpture. Is it out of history or out of the future? Your call! Don't miss it...

Farnsworth House
14520 River Road,
Plano , IL
Tel: (630) 552-0052
Designed by Mies van der Rohe for Dr Edith Farnsworth in 1946, it was a plan that he had in mind for Jackson Hole, Wyoming project that was never executed. After seeing the Plano site, Mies decided it would great on the river aswell as near the Tetons! However, as it turned out that was exactly what Edith wanted. After a rocky love affair and four years to build the house Edith did like like, she sold it to Lord Palumbo, a world famous London real estate developer and art collector.
Lord Palumbo added some of his art collection of outdoor sculptures by leading contemporary sculptors to the garden, and opened the house and garden to the public. Recently, about two years ago, Lord Palumbo sold the house and property to the Landmarks Preservation Council of Illinois, and is now a National Trust site, open to the public. The sculptures were moved to Kentuck Knob, a Frank Lloyd Wright designed home, owned by Lord Palumbo, and open to the public. For history of the Farnsworth's house.
For information on Kentuck Knob see the listing under Pennsylvania.

Forest Hills Trust
Cecily Miller, Director
95 Forest Hills Avenue
Boston, MA 02130
Tel: 617-524-0128
Forever lost under the streets of Boston, Charlie still rides on the MTA! When not searching for Charlie, take time to visit the grounds of the Forest Hills Trust in nearby Roxbury. Over two hundred acres of well landscaped lawns and ponds, are graced with many types of trees from all over the world, some over 100 years old. This beautiful park is frequented by deer, red tail hawks, turtles and blue herons. Visitors stroll, bike and picnic. Meditation and contemplation is allowed.
Started in 1848, this park has encouraged the display of sculptures. Early on, they were mostly representational, some were done by Daniel Chester French. In recent years a Contemporary Sculpture Path has been growing with abstract sculptures by mostly New England sculptors, in varying types of media including: bronze, stone and materials that can withstand the vagaries of the local climatic conditions.
Come walk in this tranquil oasis, see for yourself what a peaceful place it is. Some say that there are occasional sightings of Charlie on overcast days. Admission is free. Caution: trolls lurking!

The Nathan Manilow Sculpture Park
Governors State University
University Park, IL
Located just off I-57 at the Sauk Trail exit, this 300-acre outdoor park features 22 monumental works.

Oakton Community College Sculpture Gardens
Des Plaines Campus ,
1600 East Golf Road,
Des Plaines, Il. 60016

Ray Hartstein Campus,
7701 N. Lincoln Avenue,
Skokie, Il. 60077
Sculptures by mostly regional sculptors can be seen Des Plaines and Skokie campus sites. The College is located about 30 northwest of downtown Chicago. Their URL provides the locations of individual sculptures. "Red Baron", a thirty foot high spiral auger sculpture by Benbow Bullock was installed August, 2004, in their their permanent collection of outdoor sculptures.
Quad Cities Area : Public Works of Art
Illinois/Iowa
Four Cities along the Mississippi River: Davenport, Bettendorf, Rock Island and Moline created this fascinating website about outdoor art along the river. Of particular interest is "Architectural Park" by Lori Roderick and other artists who have created 16 sculptures to represent human habitats. Also the "Illiniwek Park Nature Spiral" by Kunhild Blacklock near Hampton, Illinois interpret the River's natural resources on a spiral arrangement of boulders with 42 drawings of plants, animals and insects were sandblasted onto the rocks.

Skokie North Shore Sculpture Park
Skokie, IL
The park is two miles long and 100 yards wide. It is fun to walk or skate board the curving walkways.

Wandell Sculpture Garden
Meadowbrook Park
Urbana, IL
Robin Hall, Director
A three mile trail wanders through the 30 acre sculpture park. Most of the pieces sit amid recreated native Illinois prairie, the largest recreated prairie within an urban area in the nation. Most of the sculptures are on two year loans from the artists or collectors. Well displayed.

AROUND DOWNTOWN CHICAGO
Radiant I, Richard Lippold 1958,
lobby Inland Steel Building, 30 West Monroe St
Four Seasons, large scale tile mosaics, Marc Chagall 1975,
First National Plaza, West Monroe and S. Dearborn Sts

Miro's Chicago, Joan Miro, 1967 69 W. Washington at N. Clark Sts

Pablo Picasso (Untitled) 1967, Richard J. Daley Center, W. Washington
between N. Dearborn and N. Clark Sts

Monument With Standing Beast, Jean Dubuffet 1985, James R. Thompson Center
100 W. Randolph St

Dawn Shadows, Louise Nevelson, 1983,
Madison Plaza, 200 W. Madison at Wells St

Universe, Alexander Calder, 1974
Sears Tower Lobby, W. Adams at S. Franklin Sts.

Batcolumn, Claes Oldenberg, 1977, 100' high baseball bat,
Social Security Building, 600 West Madison St.

INDIANA

"The Cummins Foundation"
The Columbus Area Visitors Center
506 Fifth Street
Columbus, Indiana
Tel: 812 378-4289
The only U.S. Post Office in the United States whose design was paid for with private funds! J. Irwin Miller, now 94, founder of Cummins Engine, billion dollar manufacturer of Diesel engines, made Columbus into a mecca for modern architecture. Population: 44,000, the Cummins Foundation has paid over $15 Million in design fees for world class architecture and the purchase of art.
Yes, Eero Saarinen, Charles Eames, Edward Larrabee Barnes, Charles Gwathmey, I.M. Pei, Richard Meier and Cesar Pelli, have all left their design marks on the city of Columbus, Indiana. And as well, a large scale outdoor sculpture by Henry moore, and a fire station by Robert Venturi, and an 18 holeRobert Trent Jones golf course. Over 50,000 visitors a year, come to see what is happening in Columbus, an hours drive south of Indianapolis.
R.W. Apple, Jr, Summed it up very well in his article in the NYT, Friday, December 3,2003 "A Farmland Showcase for Modern Architecture" when he was talking about the architectural designs,"Most are successes; a few are masterpieces".

IOWA

Art Scene Iowa
John Busbee, Editor
Des Moines, IA
Tel: 515 707-1532
Whether it's in Keokuk or Iowa City, or if it is happening at all, it will on this site. Art and cultural news from around the state, calendar, reviews and web log, Iowa's voice for cultural awareness. For artists and art lovers.
Iowa State University
290 Scheman Building
Ames, Iowa
Tel:515 294-3342
Iowa State is home to one of the largest campus public art programs in the country. Over 2000 works of public art, are lcoated across campus, in buildings, courtyards, open spaces and offices. Over 400 were done by significant national and international artists. "Art on Campus" maps and information sheets are available from the above University Museums office. Sculptures that standout include work by: Manuel Neri, Stephen De Staebler, Grant Wood, Beverly Pepper, Christoper Bennett and Christian Petersen. One of my favorites is "Left Sided Angel" by Berkeley sculptor, Stephen De Staebler, an angel only one wing and one leg; perhaps depicting the human condition. Most of the works were commissioned, or were donations from the Iowa one half per cent for art buildings program.
Pappajohn Sculpture Park
4700 Grand Avenue
Des Moines, IA 50312
Tel: 515 277-4405
Not your run of the mill sculpture park. This one features large scale outdoor sculpture on an 81 acre site in wood Park, by four artists to dramatize the beauty of the park. Bruce Nauman's Animal Pyramid is literally a stack of bronze larger that life size well-balanced caribou, elk and foxes. Like much of Nauman's work it is enigmatic but impossible to ignore. The other artists are Richard Fleischner, Mary Miss and Richard Serra.
The master plan for the park was to allow space for twelve more sculptures, but a devastating flood in 1993 caused severe structural damage to the Art Center Building. Funds had to be diverted and the current status for completion of the park is not known.
KANSAS

Martin H. Bush Sculpture Collection
Ulrich Museum of Art
Wichita State University,
1845 N. Fairmont,
Wichita, KS
(316) 978-3664
Every corner of Wichita State 330 acre campus has a portion of the 70 pieces of sculpture collection on display.
Internationally acclaimed artists in the collection include: Henry Moore, Joan Miro, Luis Jimenez, Robert Indiana, Botero, Rodin, Claes Oldenburg and Andy Goldsworthy.
"Beyond the Museum Walls: Martin H. Bush Outdoor Sculpture Collection" was published in 2002 by the Wichita State University Publications. Is a definitive introduction to the collection.

Johnson Community College Gallery of Art
Overland, KS

Nerman Museum of Contemporary Art
Johnson County Community College-
Bruce Hartmann, Director
12345 College Blvd
Overland, Kansas 66210
Tel: 913 469-8500 X3972
Located one half hour south of Kansas City, is a 240 acre college campus, with over 40 sculptures by internationally recognized artists. The sculptures are spread out and cannot be seen on a drive-by, walking is imperative. At the main entrance to the college is a substantial outdoor sculpture by Clement Meadmore. Other sculptures include work by: Barry Flannagan, Magdeleana Abakanowicz, Anthony Gormley, Dennis Oppenheim, Louise Bourgeois, Judith Shea, Barbara Cooper and DoHo Suh. The sculpture collection is supported in part, by the Oppenheim Foundation of Kansas City. Everything is up to date in Kansas City!
Wichita Art Museum
1400 West Museum Blvd
Wichita, Kansas 67203 Tel (316) 268-4921
In addition to being the largest art museum in the state of Kansas, the museum houses one of the finest collections of American art. The permanent collection features work by Mary Cassatt, Winslow Homer, Edward Hopper and Charles M. Russell.
Sculptures in the outdoor collection include work by: Tom Otterness, Richard Hunt, Douglas Abdell, Steve Kestrel, Stanley Boxer, David E. Bernard , Isaac Witkin and Henry Moore. For additional information, please contact Katie Keckeisen
Wichita is best known as an aircraft manufacturing center, with large facilities owned and operated by Boeing, and Beechcraft.
Kentucky

LOUISIANA

Sydney & Walda Besthoff Sculpture Garden
New Orleans Museum of Art
1 Collins C. Duboll Circle (City Park)
New Orleans, LA 70179
(504) 488-2631
E. John Bullard, Director
The five acre Besthoff Sculpture garden opened with fifty sculptures in November, 2003. The sculptures include work by Lachaise, Moore, Lipchitz, Zorach, Hepworth, Louise Bourgeois, Segal and Joel Shapiro. Along the lagoon are two dramatic sculptures by Kenneth Snelson and another by George Rickey. The garden is well maintained and curation is wonderful. Steven Maklansky, curator. Free admission.
That is just the beginning. If you like the Besthoff sculpture garden, you will love see more of Sydney Besthoff's fine art collection. In the warehouse District of New Orleans, on the 7th floor of the K&B Building, Lee Circle, are the executive offices of Syndey Besthoff's former drug store chain. The public is allowed to visit his understated dramatic eclectic collection of contemporary paintings and sculptures. Wave to a passing secretary and she will open the door to the executive floor. Silence is appreciated. The collection has good selections by: Nagare; Manuel Neri, James Surls, Albert paley, Robert Arneson, Frank Gehry, Yves Klein and Nancy Graves. On the main floor outdoor plaza is a large stone sculpture by Isamu Noguchi.
The Contemporary Art Center is only two blocks away; 900 Camp Street at Howard Avenue. www.cacno.org <http://www.cacno.org>
504 528-3805. David Rubin, Curator.


Maine

MARYLAND

Baltimore Museum of Arts Sculpture Gardens
Baltimore, MD
Over 35 sculptures on display at Wurtzburger and Levi sculpture gardens. 20th Century artists.

Evergreen House
The John Hopkins University
4545 N. Charles St
Baltimore, MD 21210 Tel 410-516-0341
The 2nd biennial "Sculpture at Evergreen" features the work of ten artists
who have created site specific sculptures relating to Evergreen House. The
grounds comprise 26 landscaped acres near the Inner Harbor.
The exhibition was juried by Mary Jane Jacob, a nationally recoginized
curator. Artists shown are mostly from the East Coast. In addition to the
outdoor sculptures, galleries indoors at the Evergreen House have works of
other artists on display. Thank you Doina Adam for bringing Evergreen to my
attention. Doina is one of the participating artists in the outdoors.
Arts on the Point Sculpture Park
University of Massachusetts
Boston, MA
September, 2000 the first sculpture was installed on the 200 acre sculpture park overlooking Dorcester Bay. "Huru" is a 55' high, 18 ton I-beam sculpture done Mark di Suvero. Other work by sculptors who have donated or loaned their sculpture for this project include: Sol Le Witt, Dennis Oppenheim, Ursula von Rydingsvard, Magdelena Abakanowicz, Tony Smith, Maya Lin and Luis Jimenez. All funding for Arts on the Point has come from individuals and foundations. The site was a landfill and former dump owned by the state and used UMB. We are all waiting to see what will be installed next!

Cambridge Arts Council
Exterior and Interior Sculpture
Cambridge, MA
Cambridge Arts Council is supported in part by the City of Cambridge and the Massachusetts Cultural Council. Names of artists and titles of sculptures along with dimensions and street addresses of sculptures in the public art collection are easy to identify. It is an impressive effort to bring art awareness to the public.
* De Cordova Museum & Sculpture Park
Lincoln MA
Fifteen miles west of Boston this 35acre park is on the edge of Flint Pond. More than 40 sculptures, mainly by New England artists are on display among paths and, picnic tables. Works are from the permanent collection, site-specific commissions and long term loans. Usually about half of the sculptures on display are on long term loans. Mark di Suvero's Sunflowers for Vincent stands out, along with Paul Matisse's (grandson of Henri Matisse) Musical fence, both of which are on loan. The Matisse can be heard all day long as visitors interact with the sculptural chimes.

Forest Hills Trust
95 Forest Hills Avenue
Boston, MA 02130 Tel 617-524-0128
email: info@foresthillstrust.org
A cemetery, is a graveyard, is a marble orchard... for the living not the dead. Two hundred acres are covered with beautiful landscaped gardens, with well maintained grave stones, figurative marble and bronze sculptures, mausoleums, and tidy green grass lawns. A monument to expensive perpetual care, should there be such a thing. While founded in 1848, as a proper cemetery, on a scale similar to Forest lawn in Los Angeles, this cemetery maintains a sense of stillness, deathly clamminess, and morbidity not found in most cemeteries.
There are five memorials done by Daniel Chester French, commissioned by wealthy families. In recent years an on going Contemporary Sculpture Path, has been growing with a well done selection of tastefully correct sculptures, done by mostly contemporary New England artists. They maintain the solemnity and foreboding of a burial ground. But I would imagine the sounds of leaf blowers, and backhoes digging fresh holes in the ground, do well competing with the silence of death.
It brings to mind that the wealth that created this peaceful reserve, probably came from slave traders, rum runners, and corrupt politicians, all costumed in the proper finery of the period.
Mass MOCA
North Adams, MA
Thirteen acre campus located in the old Sprague Electric capacitor factory is a unique site with lots of unobstructed indoor spaces and courtyards to display site specific sculptures that may not have been executed because of space requirements. An example is "Tree Logic" by Natalie Jeremijenko, an Australian artist, who created an unusual environment for six growing trees upside down. The inverted trees are suspended from an aerial truss. "Tree Logic" is not the expression of any point in time, but the change in the shape and condition of the trees over time. Trees grow away from the earth seeking sunlight. This will over time allow the trees to assume unnatural shapes, provoking the question what is natural and the nature of nature.
"Clocktower Project" by Christina Kubisch, German, consists of solar cells, computer, sound systems and speakers assembled in the old 4-faced clock tower which had not tolled its two massive bells since 1986. Now recordings of the tolling bells played by Kubisch can be heard from sunrise to sunset with the brighter the sun the louder they toll.
Other sculptural works by Cart Andre, Dan Flavin and John Chamberlain can be found inside.

MIT- List Visual Art Center
Outdoor Sculpture
Wiesner Building, 20 Ames Street,
Cambridge, MA
Wonderful examples of the work of Calder, Jennifer Bartlett, Calder, Heizer,
Nevelson, and Henry Moore. Location campus of MIT in Cambridge.

New England Sculptors Association
44 Fuller St
Waban, MA 02468
info@nesculptors.com
When it comes to sculpture if it's happening in New England they will know about it here!
Cranbrook Academy
Bloomfield Hills MI
315 acre academy campus near Detroit. Landscaped grounds with sculptures by Kahn and Saarinen, Carl Milles, Nonas and Voulkos.

The DeVos Art Museum
Northern Michigan University Art Sculpture Walk
Upper Peninsula
Marquette, MI
There currently nine sculptures on display in the permanent collection which is in the process of expanding along the walk. Al art work has been donated by artists: Sol LeWitt, Michael Todd, John Mishler, and Mara Admitz Scrupe as well work done by members of the art department faculty.
Krasl Art Center
St Joseph, MI
In the southwest corner of Michigan is this mostly undiscovered sculpture park with work by: Rickey, Richard Hunt, Jon Isherwood and Michael Dunbar,

Frederik Meijer Gardens & Sculpture Park
Arthur & Elizabeth Snell Sculpture Center
Grand Rapids, MI
Opened in September, 2001, the new sculpture center features interactive displays to help visitors understand the technical as well as the creative processes an artist must cope with to make sculpture.
Current work in the permanent collection include work by Nina Akamu; Alexander lieberman, Deborah Butterfield; Calder;and Richard Hunt. Future installations will include work by: Magdelena Abakanowicz, Keith haring, Jacques Lipchitz and Arnoldo
Pomodoro.

Michigan Legacy Art Park
Traverse City, MI (231) 947-1916
Impressive sculptures dot the 30 acre park which also includes and amphitheater for music and the performing arts.

Wave Field
Francois-Xavier-Bagnoud Aerospace Engineering Building
University of Michigan
Ann Arbor, MI
Maya Lin, Yale art student, famous for her Vietnam War Memorial, has built yet another memorial. This one is for a graduate student that was in the UM aeropace program who died in a heliocopter crash. The outdoor sculpture consists of 50 grass waves in eight rows, with each wave five or six foot high green grass sod.
The undulating waves of grass are remeniscent of the Hopewell burial mounds along the Ohio River where Maya Lin was born. They also refer back to early Chinese paintings of the Song Dynasty and 19th century Japanese woodcuts.
Franconia Sculpture Park
29836 St Croix Trail
Franconia, MN 55074
651 257 6668
16 acre site supports work by emerging and recognized artists. Artist in residency and workshops. John Hock, Director

General Mills Art Collection/Sculptures
1 General Mills Blvd
Minneapolis, MN 55426
(612) 540-7269
This is a private collection and not open to the public except by invitation or prior arrangement. The collection extends over their 85 acre campus and includes sculptures by Serra, Borofosky, Burton, Highstein, Nash and Armajani.

* Walker Art Museum Sculpture Garden
Minneapolis Sculpture Garden
Vineland Place
Minneapolis, MN (612) 375-7600
The sculpture garden is a joint public/private affair. The city owns the 7 acres that encompasses the garden and the Department of Parks and Recreation maintain the property, and funds from patrons of the Walker are used to install and maintain the sculptures. Over 1 million people a year visit this most impressive sculpture garden.
The landmark sculpture is Spoonbridge and Cherry produced by Claes Oldenberg and Coosje van Bruggen. It consists of a gray spoon rising out of pond with a cherry balanced on top. Many locals come here to have wedding pictures taken. other notable works are done by Martin Puryear, Siah Armajani's bridge which spans a 16 lane highway, and Frank Gehry's Standing Glass Fish. You will never be under whelmed at the Walker, I promise.

Citygarden
Gateway Mall
St Louis, Missouri
In the shadow of Eero Saarinen' s world famous St Louis Arch, and walking distance to the Mississippi River, Citygarden, is a three acre urban oasis in downtown St Louis. Framed by office towers, two vacant City blocks have been landscaped into areas featuring water and stone that play off the region's natural feature, two great rivers, The Mississippi and the Missouri.
Recently opened, Citygarden features two dozen modern and contemporary sculptures, many have been created by internationally recognized artists. Among the usual cast of characters, are George Rickey, Julian Opie, Tom Otterness, Jim Dine, Keith Haring, and Martin Puryear.
There are no "Statues" in Citygarden... Everything is real sculpture, art. While none of it, is conceptual or site- specific, the sculptures are of outstanding quality, but safe and conservative. "There is no jolt of excitement".
Citygarden is part of Gateway Mall, a mile long east-west fairway, that opens up historic St Louis, as the new Gateway to the West. As planned, Citygarden, is the prototype for the development of the rest of Gateway Mall.
Louis IX would be proud!
Daum Museum of Contemporary Art
State Fair Community College
Sedalia, MO
The core holdings in the permanent collection were donated by a Sedalia physician Hal Daum. The stucture includes a large sculpture courtyard open to the sky. The collection includes work by Motherwell, Poons, Frankenthaler and Gene Davis. As well as sculptures by Dale Chihiluly and Henry Moore. stay tuned for more up to date news or or email: info@daummuseum.org

Nelson-Atkins Sculpture Park
4525 Oak Street
Kansas City, MO. 64111-1873,
Tel: (816) 561-4000
Jan Schall, Curator Contemporary Art
Marc Wilson, Director and CEO
Yes Martha, everything is up to date in Kansas City! And getting better in 2007, when the 165,000 square foot Bloch Building addition opens. Designed by New York architect Steven Holl, the new wing will feature special filtered natural lighting in all the new galleries.The building will face north and south to get maximun north light exposure. When the old and new buildings open in 2007 they will have a combined space of almost 400,000 square feet.
When the first phase of the campus enhancement project is complete, the existing Kansas City Sculpture Park will be much larger. A sculpture by Walter De Maria, "One Sun/34 Moons" will be the focal point of the new north entry plaza. Already, Magdalena Abakanowicz's "Standing Figures (30 figures)" and one of Claes Oldenberg and Coosge van Bruggen's "Shuttlecocks" , a total of three birdies are on display on the north side of the 22 acre sculpture park. Other sculptures have been moved or covered, during this construction, many are still on view. The park is home to the largest collection of Henry Moore large scale outdoor bronze sculptures outside of England. Inside the old museum building, 40 maquettes and small scale Henry Moore bronze sculptures are on display on balcony gallery. Don't wait until 2007, visit the Nelson-Atkins now!
The Museum has had for a long time, the largest collection of Asian art in the country, maybe even the world. In the Asian wing you are surrounded by buddhas, bodhisattvas and dancing bronze shivas. And a marvelous buddhist temple for viewing or contemplation. The Nelson-Atkins is truly a world class act!

Pulitzer Foundation for the Arts
3716 Washington Blvd
St Louis, MO Tel 314 754-1848
The piece de resistance is a 125 ton steel sculpture named "Joe" in honor of Joseph Pulitzer, the patron and good friend of the artist Richard Serra. Its huge curvilinear steel swoops curl in and over each other. Visitos can walk through them and when they arrive at the center, they can look up and see daylight or stars shining down on them.
The museum is open only 2 days a week and is limited to 50 visitors on a first come first served basis, no ressys except for larger groups. Owned and operated by the Pulitzer Foundation for the Arts, the Foundations only three oieces made by Ellswoth Kelly;
Richard Serra and Doris Salcedo and does not plan to purchase more. All the other 37 pieces of art are on loan from the collectiojn of Joseph Pulitzer, Jr and his widow Emily Rauh Pulitzer.
Serra Sculpture Park
Between 10th, 11th and Market and Chestnut Streets
Downtown St Louis, MO
Yes Martha, there really are two Serra sculptures in St Louis. Richard Serra installed "Twain", seven 40 foot steel panels and one 50 foot horizontal slab, in March, 1982, in Gateway Plaza. It is sighted so that looking in one direction you see the Aero Saarinen's famous Arch sweeping its upside down catenary curve gracefully enfolding the old St Louis Court House, home of the Dredd Scott decision. Looking west, you see a tall building in the Federal tradition, built in the 30's, with a faux Greek temple perched on top of it. The was the home of the Bureau of Indian Affairs, even though the closest reservation in Oklahoma was 400 miles southwest of St Louis. To get the full feeling of Twain, you have to go into a nearby high building and look down on it.
The second Serra sculpture, is the 125 ton "Joe" which was commissioned by Emily Pulitzer and named for her late husband Joseph., publisher of the St Louis Post-Dispatch. "Joe" is in a cortyard shared by the Pulitzer Foundation and the Forum for Contemporary Arts, thirty blocks west of the "Twain" installation. "Joe" is more of a self contained piece of sculpture, without concern for surrounding vistas.
Montana

NEBRASKA

Sheldon Memorial Art Gallery and Sculpture Garden
University of Nebraska
451 North 12St, Lincoln 68588 (402) 472-2461
35 plus sculptures are situated on the 15 acre campus near the Sheldon Art Gallery. Expect to see work by Hunt, Haizere, di Suvero, Lachaise, Neri, Oldenberg, Serra, Shea and Zorach.
Burning Man
Location: Playa Black Rock Desert
90 North-Northeast of Reno
Closest town Gerlach
Burning Man Festival is a week long event held on the week prior and including Labor Day. A temporary city is created; in 2005 over 36,000 participants attended the event. It is an an experiment in community, radical self-expression and self-reliance, on a very hot, dusty and godforsaken charmless desert plain. The culmination is the burning of a large wooden man on Saturday night. Competing with the Burning Man, is the the burning of one of Petaluma artist David Best's three-story high temple projects.
Black Rock City (BRC) is the name of the temporary community. After the event closes, some visitors stay to clean up the debris in compliance with the Federal Government Bureau of Land Management or BLM's policy, of "Leave No Trace", or the event will not be allowed again. The BLM owns the property on which Burning Man takes place.

Double Negative '70
Mormon Mesa
Overton, Nevada
If the Culebra Cut, one of the largest excavations ever, and the whole of the Panama Canal, were built by an artist rather than an engineer, George Washinton Goethals, would it have been called one of the first pieces of Earthwork, Land Art or Earth Art?
Double Negative is a sculpture in the middle of the Nevada Desert, conceived by artist Michael Heizer and funded by gallery owner, Virginia Dwan. It was built with the use of dynamite and bull dozers. Two trenches are separated, and lined up by a natural gap in Mormon Mesa. The total distance of the two trenches and the gap measure 1,500 feet long, 50 feet deep. Over 240,000 tons of sandtone and rhyolite was removed during the the construction of the trenches. The sculpture site is owned by LACMA through a gift from Virginia Dwan. Property surrounding Double Negative is owned by the U.S. Government Bureau of Land Management.
Rather than postive space taken up by the Great Pyramids, Double Negative consists of three negative spaces, one natural and two excavated holes in the ground. Overton, Nevada is approximately 65 miles from Las Vegas, from Overton. To see the site requires a four-wheel drive vehicle. Careful directions, instructions and a clear map can be found on the above web site, maintained by Nick Tarasen.
Heizer is currently working on a colossal positive space project "City", based in rural Lincoln County, Nevada; 38 degrees north and 115 degrees west, latitude and longitude respectively. It is about 150 miles from Las Vegas. "City" is not open to the public yet, but is well described on the above web site.
.

Goldwell Open Air Museum
Amaragosa Valley, NV (Near Rhyolite)
"Under Other Circumstances". This is not your average sculpture park, 120 miles north of Las Vegas in the middle of the Mojave Desert with the nearest settlement being a ghost town. Work displayed in the desert were done mainly by Belgium artists; After Szukalski, Fred Bervoets, Hugo Heyman and others.

Nevada Museum of Art
Diane Deming, Curator
E.L. Wiegand Gallery
160 W. Liberty St
Reno, NV 89501
Tel: 775-329-3333
Opening in May, 2003, the new museum was designed by architect Will Bruder inspired by the Black Rock Desert, of Burning Man fame. A dramatic curved black- zinc surface wraps around the outside of the 13,500 square foot, four story building. It will have two sculpture gardens and a rooftop terrace. Emphasis will be on environmental and installation art. Already in their permanent collection is work by Michael Heizer, Dennis Oppenheim and Celeste Roberge.

New Hampshire

Andres Institue of Art Sculpture Park
PO Box 226, 98 Rte 13
Brookline, New Hampshire 03033
(603) 673-8441
On the basis of acreage alone, Andres is the largest in New England. The park is open to the public daily dawn to dusk, free of charge. The Institute has sponsored several important international sculpture symposiums with with artists from Eastern Europe and the United States.
* Grounds for Sculpture
Hamilton, New Jersey
Grounds for Sculpture opened in 1989. It was formerly part of the State of New Jersey Fairgrounds, near Princeton, New Jersey, an hour drive from New York on the New Jersey Expressway. The grounds consist of 22 acres of well landscaped rolling hills that were created for the display of sculpture. In addition to the sculpture park is a two story 11,000 square foot gallery for changing exhibitions.
Call for directions and hours.
Sharing another portion of the old fairgrounds is the Johnson Atelier, a functioning large scale brass and iron foundry for the fabrication of fine art. Still another neighbor on the same grounds is the headquarters of the International Sculpture Center.
Sculptors with work in the collection include: Magdalena Abakanowicz, Bruce Beasley, Anthony Caro, Nancy Graves, William King, J. Seward Johnson, Beverly pepper, Tom Otterness, Joel Shapiro, Ursula Rydingsvard, Manuel Neri, Fletcher Benton and Benbow Bullock. Benbow actually has two sculptures in the collection, his painted steel triptych "Pillars of Hercules", and "Albedo", a thirty two foot high stainless steel endless column.

Grounds for Sculpture
Not what you think it is... It is the new restaurant on the grounds of Grounds for Sculpture which serves lunch and dinner in an art-filled chateau. Cuisine is French contemporary prepared by chef Eric Martin. Try the smoked fish plate with a frisee salad featuring Red Bliss Tomatoes.
Phone: 609-584-7800.

Ironstone Sculpture Garden
218 Commissioners Pike
Woodstown, NJ 08098
(856) 769-4913
Open by appoinment only. Landscaped 5 acre park includes sculptures Mitsuo Kikuchi, Casey Schwarz and Daniel Gantenbein

Newark Museum Sculpture Garden
49 Washington Street,
Newark NJ
973-596-6550
Ten plus sculptures in a formal garden setting include work by Segal, Rosati and David Smith.

Princeton Campus Sculpture Walk
Princeton NJ
A stroll through the beautiful Princeton campus any time of year is a real treat. The wonderful John Putnam Jr collection of sculptures includes works by Henry Moore, Calder Sr and Jr; Pomodoro, David Smith, Tony Smith and Noguchi.

Lumina Gallery- Ridhwan Sculpture Garden
239 Morada Lane, Taos, NM 87571
Just off the main street of Taos is this wonderfully well maintained gallery and sculpture park with work by many well known American artists including: Bruce Beasley, Michael Braden,Frank, Jesus Moroles and Hans de Bovenkamp. In many ways it is the premier sculpture garden in the Santa Fe/Taos region. email for more info
El Ancon Sculpture Park
Ribera, NM
(505) 421-7057
Nicasio Romero
Ten acre sculpture garden that includes orchards, acequia trails, and mesa vistas. Call ahead or email jromero@etsc.net

Shidoni Gallery, Foundry and Sculpture garden
Bishop's Lodge Road
5 miles north of Santa Fe
P.O. Box 250
Tesuque, NM 87574
V 505 988-8001, info@shidoni.com
Tommy Hicks, Owner, bought eight acres along the Tesuque River in 1971. He turned what was an apple orchard and a chicken coop into what is now among the finest art centers in the country. The 14,000 square foot foundry pours over 10,000 pounds of bronze per month, with a single pour capacity of 700 pounds into a single ceramic shell. The foundry is open to the public to watch pours on weekends. Be sure to call for times.
Sarah Faulkner, is the director of the gallery which consists of a large high ceiling contemporary building by the entrance, along Bishop's Lodge Road. The gallery offers changing exhibitions of paintings, sculptures and multi-media art-related works. Outdoors, the gallery curates the display and sale of large scale sculptures in the seven acre sculpture garden. Sculptors include: Bill Barrett; Susan Beran, Troy Pillow, Hans de Bovenkamp and Benbow Bullock.
Sculptures on display cover a full range of styles and media; both representational and abstract, metal and stone, fountains and kinetic. It is a fun place to visit and explore. There is a lot more than cowboys, Indians and Canyon Road, around Santa Fe!

Walter de Maria's "Lightning Field"
400 stainless steel poles with pointed tips each approximately 20' high were installed in 1977 by the artist Walter di Maria.
They form a rectangular matrix one mile by one kilometer.
Sponsored by the DIA Center for the Arts, New York (See DIA New York link).
Local contact: DIA PO Box 2993, Corrales, NM 87048. (505) 898-3335.
Overnight stay required. Limited to two persons only Open: May through October.
NEW YORK

Art en Route
MTA Arts for Artists
347 Madison Avenue
New York, NY 10017
(212) 878-7225
New York City has done an excellent job of making travel on the public subway and rail systems operated by the MTA, an exciting and fun experience. MTA has a continuing program of rehabilitating subway and rail stations in the City and suburbs by funding the installation permanent site specific works of art. Write or call the above address and ask for a free copy of "Art en Route" which has photographs of the mosaics, frescos and sculptures, identified by station location and artist. The quality of the art installed is breathtaking. Bravo for a well done project and publication!

The C Lyon Sculpture Garden
315 Acker Road
Horseheads, NY 14845 Tel 607-594-2807
email: theclyon@excite.com
The "Sea lion" sculpture gardens comprises 40 acres of landscaped trails and grounds covered with 300 plus sculptures by The C Lyon. His work is strongly influenced by David Smith! The garden is open year round, by appointment only, and the tour takes one hour which includes The C Lyon playing his guitar, singing folk songs and reciting some of his own poems. The Garden is located not too far from Cornell at the foot of the Finger Lakes in Chemung County which is also referred to as Mark Twain Country.

*Albright-Knox Museum of Art
Buffalo NY
Small interior courtyard has 14 sculptures on display by sculptors of international recognition including: David Smith Cubi XV, Louise Nevelson's painted aluminum drum a predecessor of her works in wood, Fritz Wotruba's rectangular blocks of limestone; Max Bill's granite Construction for a Ring. And Noguchi's bronze Cry as well as kinetic peristyle by George Rickey. On the entry lawn there are sculptures by Beverly Pepper, Kenneth Snelson and Tony Smith. Albright-Knox is world-class!

*Battery Park City
A Guide to Public Art
NY, NY
(212) 417-2000
Located on 35 acres of landfill in lower Manhattan on the bank of the Hudson River, with great water views of surrounding shorelines and skylines. Ask for this wonderful illustrated free brochure that identifies 20 locations of site specific sculptures from the Battery to Chambers Street. It desribes the work of each artists and and a thumbnail bio of his background. >From Tony Cragg, Jim Dine, Andy Goldsworthy to Mary Miss; you love them all!
Buckhorn
Sculpture Garden (Private)
Pound Ridge, New York
Should you ever be invited to see the sculptures at Buckhorn, do NOT pass up this opportunity.

Central Park : Sculpture Tour
New York City, NY
Sculpture walk in Central Park. See everything from Duke Ellington; Balto, an Arctic sled dog to Cleopatra's Needle.
This web site is maintained by the The Central Park Conservancy, a non-profit group, 14E 60th St, NYC 10022, T (212) 310-6600. Each listed sculpture has link to it so you can see what the sculpture looks like before the taking the tour. The site also has an easy to read map with markers for location of each sculpture.
*The Cloisters
Fort Tryon Park
NY, NY
Owned & operated by the MET, The Cloisters brings Medieval France to NYC.
* DIA Foundation
NY
Do not miss DIA Beacon!

The Fields Sculpture Park
Omi, NY (Near Hudson,NY)
59 Letter S Road, Ghent, NY 12075
Operated by Art Omi International Arts Center
Located on 150 acres in Colombia County, New York, approximately 2 1/2 hours north of Manhattan via car. Definetely call for directions (518) 392-7656 or ask them to email a map. artomi55@aol.com There are over 40 sculptures on the grounds which are centered around Ledig House a turn of the century Italianate farmhouse which offers residencies for writers, artists & musicians. Most sculptures are on loan from sculptors like Alexander Liberman, Jene Highstein, Beverly Pepper & Donald Lipski. Each year 10 new sculptures are added to the park including some site specific work. In addition there are temporary exhibitions and occassional one-person shows. Art Omi is a non-profit 501c3 corporation, which has its offices at 55 Fifth Avenue 15th floor, NYC (212) 206-6060. Kathleen Triem and Peter Franck are the curators.
Fordham University at Lincoln Center
Sculpture Garden on the Robert Moses Plaza
Columbus Avenue at 60th Street,
NY, NY

Hofstra University Sculpture Garden
Hempstead,Long Island, NY 11549
Tel: 516 463-6600
Sixty plus sculptures grace the Hofstra 240 acre campus. The siting of the sculptures has been in cooperation with the University's nationally registered arborteum. Good examples of work by international sculptors can be seen year round. Sculptures by Henry Moore;Lin Emery; Richard Heinrich; William King and Antoni Milkowski are included in this marvelous display of this well curated and maintained collection of outdoor sculpture.
Also on the South Campus is a full scale sone replica of the labyrinth built in 1200 at the Chartes Cathedral. Walk it to the center and you will wonder why you waited so long to try it out.

Iris & Gerald Cantor Roof Garden
Metropolitan Museum of New York
5th Avenue at 82nd St
NY, NY
Designed for changing exhibitions the roof garden has impressive views of Manhattan's skyline. Elevator to the roof is difficult to find, ask a guard.

* Donald Kendall Sculpture Garden at PepsiCo
700 Anderson Hill Road
Purchase, NY 10577
914-253-2000
While Pepsico has created one of the finest landscaped sculpture gardens in the world, they have opted to not publicize it with a web site, Open all year. Admission is free. Don't miss it! Call for driving instructions.
Hudson River Valley web site provides some details.

Kykuit Gardens
former home of Nelson A. Rockefeller
North Tarrytown, NY (914) 631-9491
Formal gardens overlooking the Hudson River include over 70 sculptures by Arp, Calder, Lipchitz, Moore and Picasso among others. Reservations necessary.

LongHouse Reserve
133 Hands Creek Rd,
East Hampton, Long Island, NY
(516) 329-3568
Situated on 16 acres, Jack Lenor Larsen, built his own version of the Ise shrine house in Japan. Lots of woods, great vistas and wonderful sculptures. Chihuly, Noguchi, Ossorio, Neri and Abakanowicz are among the sculptors represented in the collection.

MoMA Abbey Aldrich Rockefeller Sculpture Garden
New York, NY
Living up the standards inside MOMA, the outdoor sculpture garden is enjoyed all year round, even in the snow.

Museum of Jewish Heritage:
A Living Memorial to the Holocaust
30 Battery Place
New York, NY 10280
Tel: 212 968-1800
On an outdoor balcony of the Museum, Andy Goldsworthy has installed his sculpture "Garden of Stone". The sculpture consists of 18 fire-hollowed stone boulders each planted with a dwarf oak sapling. Don't miss it!

* Isamu Noguchi Museum & Sculpture Garden
Long Island City, NY
(Temporary Location)
36-01 43rd Avenue, 2nd Floor
Long Island City, NY 11101
Tel: 718.204.7088
Not to be missed, call for days and hours it is open. Worth the ride across the East River. See PS-1 afterwards, also in L.I. City.

Nassau County Museum of Art and Sculpture,
Roslyn, Long Island, NY
While you are out this way on the Island checkout all the sculptures at nearby Hofstra University in Hempstead.

Neuberger Museum of Art and Sculpture Garden
SUNY, Purchase, NY
735 Anderson Hill Road, Purchase, NY (914) 251-6100
Directly across the road from the Pepsico Sculpture Park.

OPUS 40
50 Fite Road
(High Woods)
Saugerties, NY 12477
(845) 246-3400
Built on a 12 acre site of an old quarry in the foothills of the Catskills, Harvey Fite, started his project in 1939.. He spent 37 years building this terraced environmental sculpture, an outdoor stone series of ramps, steps and alcoves.He used a stone construction technique called "dry keying", fitting each stone to another without mortar, similar to that used by the Incas at Macchu Piccu in Peru. The center piece is a nine-ton monolith, he fouind in a nearby creek bed.. A true labor of love, it is open to the public.This was a one man project.
Pacem in Terris
96 Covered Bridge Road
Warwick, NY Tel: 845-987-9968
Seventy large scale outdoor sculptures by Frederick Franck are located on six peaceful acres, 50 miles northwest of Manhattan. Pacem in Terris is dedicated to Dr Albert Schweitzer, by Dr Franck who was a practicing dental surgeon, who worked with Dr Schweitzer at Lambarene, Gabon, West Africa between 1958-1961. Open only on weekends, admission is free, pathways with stepping stones make for easy walking, through the collection of one man's sculptures made of steel, wood, stone and glass. An air of meditative quiet permeates the peaceful park-like atmosphere. Pacem in Terris means peace on earth. Dr Franck who died in June, 2006, said " I made a sanctuary, not theologically, but aesthetically, that would speak not the intellect but to the soul: soul to soul". "Pacem in Terris is neither church nor chapel, nor temple." Other sculptures by Dr Franck are in the collections of the Whitney Museum and the Museum of Modern Art.
Pratt Institute : Sculpture Park
Brooklyn, NY
200 Willoghby Ave
Clinton Hill, Brooklyn NY (718) 636-3471
Pratt Institute has an on going changing sculpture exhibitions on its Brooklyn campus. This program was created by David Weinrib in 1999 in the department of Foundation Art. It is now the largest site for out sculpture in New York City. All pieces on display are onloan from the artists for periods of several years. Check their web site for
updated list of artists who have work on display.
*PS-1 Contemporary Art Center/NYMMA
Long Island City, NY
Recently merged with the New York Museum of Modern Art, PS-1 is on the leading edge of contemporary art and sculpture.

Sculpture Center
44-19 Purves Street
Long Island City, NY 11101
Tel: 718.361.1750
The Sculpture Center moved from Manhattan to this new location in 2002.

Sculpture Space
12 Gates Street
Utica, NY 13502
Tel: 315 724-8381 info@sculpturespace.org
Sculpture Space is a non profit corporation that has been providing space, materials and technical assistance to over 300 national and international artists since 1976. The program selects 20 artists per year for two month residencies. Artists-in-residence are provided space and equipment that normally they could not afford in an environment conducive to creativity on large scale sculptures. Artists of color are encouraged to apply.
Four times a year the public is invited to see work in progress at the end of a residency period. Work made and seen first in Utica is often seen later at galleries, museums and sculpture parks worldwide. Sculpture Space is a founding member of the New York State Artist Workspace Consortium. nysawc.org

Socrates Sculpture Park
Broadway and Vernon Blvd,
Long Island City, Queens, NY (718) 956-1819
Created by sculptor Mark di Suvero, the five acre park is situated on the site of a former city dump, with an outstanding, to die for riverfront view, of Manhattan. The park is adjacent to di Suero's New York studio, and usually work in progress can be seen over or through the fencing.
The Park has no permanent collection. The most permanent aspect of Socrates Park is change. The biannual shows are magnets for curators and collectors around the country. Over one hundred large scale outdoor sculptors have had their works on display.
Just a brief two block walk away is the Noguchi Museum across Vernon Boulevard, also in Long Island City is PS-1, now part of NYMOMA and whose mission is to display cutting edge contemporary art in all media by emerging artists. Make a day out of it, have lunch at Mandacati's, home made pasta that should not go un-noticed.

Stone Quary Hill Art Park
3883 Stone Quarry Road
Cazenovia, NY 13035 T 315 655-3196
Four miles of art walking trails meander through over 100 acres of the Art Park which is open year round. Bring mosquito repellant in the summer, and dress warmly in the winter.The park, 20 miles southeast of Syracuse in upstate New York, was started by Dorothy Riester who taught art at Syracuse University. Many of the sculptures are site specific with an emphasis of art and the environment of the rolling hills of the rural countryside. In addition to the sculptures on long-term loan situated amidst woods, ponds, wetlands and meadows, they also have seasonal exhibitions and an artist in residency program.
* Storm King Art Center
Old Pleasant Hill Rd, Mountainville, NY 10953. (914) 534-3190
Like Mecca, everyone should pay homage to this place at least once in their lifetime!

Griffis Sculpture Park
Route 219, Ashford Hollow, NY 14729
(716) 257-9344.
An outdoor sculpture exhibit featuring 200 pieces.
Handicap accessible. Free admission.

Louise Nevelson Plaza
On the corner of William and Liberty Streets, Manhattan
On a small triangular plaza are a group of all black sculptures, some of
which are over 40 feet high, Shadows and Flags was installed by the sculptor
in 1978. The cluster stands up without any problem with the high rise
buildings surrounding the plaza. Sit down on one of conveniently places
benches and enjoy.

Lower Manhattan,
NY, NY
Not a sculpture park specifically but there are many outdoor visual experiences. Try Liberty Street between Broadway & Broads Streets to see Isamu Noguchis's famous Red Cube. Opposite sides are parallel at oblique angles with a hole going through the center of the cube. Distortion creates a forurceful dramatice presence in contrast to the sterile verticality of the building behind it.

NORTH CAROLINA

Asheville Urban Trail
Asheville Area Arts Council
11 Biltmore Avenue
Asheville, NC 28801
Tel: 828-258-0710
A bronze pair of size 13 shoes, that is size shoe Thomas Wolfe wore, are the creation of artist Angel Cloer. The shoe is station #19 on the new 1.8 mile long Urban Trail that meanders through historic parts of downtown Asheville. Station #8 is a replica of a an old flat iron used in a Asheville laundry at the turn of the century, 19th that is. Station #23 is the highlight of the tour, "Past and Promise", a little girl sipping water from a horse head fountain, by Asheville artist Jim Barnhill. In front of the city center are five life-size bronze bluegrass musicians and dancers. This is a crowd-pleaser for tourists who pretend to dance with the group while being photographed, station #13. I think you get the general idea.
Not far a way is the Lake Eden former home of Black Mountain College famous for being the stomping grounds of Merce Cunningham, Josef and Anni Albers, Buckminster Fuller, John Cage, Johannes Itten, Robert Rauschenburg, Walter Gropius, Robert Motherwell, Cy Twombly, Peter Voulkos, Dorothea Rockburne, Kenneth Noland, Franz Kline, Clement Greenberg, Paul Goodman, Robert di Niro, along with a cast of other cultural household names. Needless to say not all of them were there at the same time. It was founded in 1933 by a splinter group of disgruntled faculty and students from Rollins College in Florida. Their mission was to create a live-in community education project that would develop interdisciplinary classes that could provide both theoretical and hands-on learning. Classes would encompass disciplines such as painting, weaving, graphic design, creative writing, architecture, history, philosopy, ballet, mathematics, science, performance arts and poetry. Until 1957 when the college closed, it was considered a leading source of creative intellectual ideas in this country and the free world.
Some faculty and students only stayed for a year, others stayed for more 15 years. Stimulative thought and discussions went on throughout the day, night and over meals. The main building was the Robert E. Lee mansion, a wonderful high-ceiled ante-bellum structure with doric columns out front. There were lots of personality clashes and provocative arguments, as you might expect.
Just to have been there for a short time must have been a thrilling experience. The college closed in 1957 because the then faculty and supporting alumni decided it had fufilled its mission. The impact of those that attended Black Mountain is still on going. Mary Emma Harris has wriiten a well done history of the school and has formed a museum with archival information. Black Mountain College.
East Carolina University Sculpture Park
School of Art
Greenville, NC
Carl Billingsley, Director

Columbus Museum of Art and Sculpture Garden
480 East Broad Street
Columbus, OH 4315
Tel: 614 221-4848
Covers whole block. Sculptures by Moore, Rickey, Chadwick, Hepworth et al.
Pyramid Hill Sculpture Park
Hamilton, OH
Located 35 miles north of Cincinnati, it is well worth the drive to visit this expanding sculpture park.

Ohio Outdoor Sculpture Inventory (OOSI)

The Sculpture Center
1834 E. 123rd St
Cleveland, OH 44106
Tel: 216 229-6527
tsc@apk.net
The Sculpture Center promotes the preservion of outdoor sculpture, exhibiting sculpture and educating artists and the public about the role of sculpture past and present. Gallery times and exhibitions can be found on their web site, along with a map with directions.
University of Rio Grande Sculpture Park
Rio Grande, OH 45674
On the campus of the southeastern Ohio College are 12 good quality sculptures done by contemporary artists.The art is on long term loan from the artists. Contemporary sculpture is a rarity in these parts. For additional information contact sculptor and curator: Kevin Lyles at the University.

Georgia and David K. Welles Sculpture Garden
Toledo Museum of Art
2445 Monroe Street
Toledo, OH 43697
Tel: (419) 255-5638
Roger Berkowitz, Director
In 2001, during the centennial anniversary, the new two acre sculpture garden was opened. Designed by landscape architects, Olin Partnership, the garden contains twenty-two sculptures on three refurbished front terraces. Large scale sculptures include the work of Alexander Calder, George Rickey, Tony Smith, Joel Shapiro, Jim Dine, Scott Burton, Ellsworth Kelly, Barry Flannagan and Deborah Butterfield


OKLAHOMA

Coles Garden & Sculpture Park
1415 NE 63rd St
Oklahoma City, OK 73111
(800) 334-5576
On 15 acres, across from the "National Cowboy and Western Heritage Museum", The Coles Garden has floral gardens, antiques and large scale outdoor bronze and some wood ,whimsical sculptures.
This is not fine art, but sculptures by regional sculptors appear to be of good quality. They provide background photo opportunities for visitors strolling through the grounds. The Garden specializes in weddings and banquets catered by their terrace cafe.

OREGON

Portland Museum of Art
Evan H. Roberts Sculpture Mall
Portland, Oregon
The sculpture mall was created during the $25 million expansion and renovation of the museum that has recently re-opened. Cuurent sculptures on display include work by Pierre Auguste Renoir, Henry Moore, Barbara Hepworth and Hilda Morris. The sculpture are back lighted platforms that are illuminated from below that give them the appearance of levitating.

"Seven Days For Seven Sculptures"
Portland, Oregon 1% For Art Program
Various locations in Downtown Portland.
(No web site)
Four piecesd are along the Eastbank waterfront, two at a renovated baseball park and one at the Portland Exposition Center. Dennis Oppenheim installed at 30 foot high metal chair with three small figures standing out on it, as well a large window and a lamp. The name: "Stage Set: An Event Sculpture". San Diego sculptor, Michael Stutz produced two large scale woven bronze heads that face each other for the entrance to PGE Park. A five-person group "Rigga" Made four sculptures of bronze, copper, glass and rusted steel that are now located on a new 2 mile long esplanade.
PENNSYLVANIA

Abington Art Center
515 Meetinghouse Rd
Jenkintown, PA 19046
On a main artery heading north from downtown Philadelphia, Jenkintown is on
the way to Willow Grove and Doylestown. AAC is a recoginized center for both
work done by regional and national artists. The Center is funded by the NEA,
Pew Charitable Trust, Andy Warhol Foundation and the Mid Atlantic Arts
Foundation, among others. Both indoor and outdoor art can be seen on the
grounds.
The sculpture garden has sculptures by Jack Larimore, Steven Siegel, Vassilis Vassili, Jean Jaffee and Steve Donegan. There are changing exhibitions, workshops and continuing education programs. Excellent directions and an easy to follow map are included on their web site.
Philip & Muriel Berman Museum of Art and Sculpture Garden
Ursinus College, Main Street,
Collegeville, PA 19426
(610) 409-3500
Located 30 miles northwest of Philadelphia, the museum has 45 large outdoor sculptures throughout the campus. It also has 135 sculptures by Lynn Chadwick ranging in size from maquettes to 1`4 large scale bronzes. Lisa Tremper Hanover, Director

Kentuck Knob
Chalk Hill-Ohiopyle Road
(near US Route 40)
Chalk Hill, PA
Tel: (724) 329-1901
Situated on 700 acres on a hill top in the remote Kentuck District of Stewart Township, Fayette County, in western Pennsylvania, is a very livable house designed by Frank lloyd Wright. The house was commissioned by the Hagan Family in 1953, of Hagan's ice cream fame. The house is based on the Usonian model, a single compact floor plan based on a modular grid system of equilateral triangles. Located only seven miles from world famous Fallingwater, another Wright gem, noted for the stream and waterfall running under the house; and only 10" high toilets inside.
The current owners of Kentuck Knob are Lord and Lady Palumbo, world famous London art collectors. The Palumbo's share part of their vast sculpture collection, which is open to the public, as well as the house. The Palumbo's also restored Mies Van der Rohe's Farnworth's House in Plano, Illinois which was aquired by the State of Illinois several years ago. The Palumbos moved their outdoor sculptures after the sale of the property to their Kentuck Knob home in western Pennsylvania, which is open to the public.
When visitng the sculpture garden do not miss the "Red Army" steel marching men by sculptor Ray Smith. Sculptures in the Palumbo collection on display include work by Harry Bertoia, Carl Andre, Anthony Caro, Goldsworthy, William Tucker, Jim Dine, Phillip King and David Nash.


Patricia Pfundt Sculpture Garden @ Michener Museum
James A. Michener Museum,
Doylestown, PA (Bucks County)

Morris Arboretum of the University of Pennsylvania
9414 Meadowbrook Ave
Chestnut Hill District,
Philadelphia, PA 19118
(215) 247-5777
Wonderful well landscaped gardens with contemporary sculptures in strategic settings.

Pittsburgh Art In Public Places
This a well done FREE walking tour of art and architecture in downtown Pittsburgh. It is Published by the Greater Pittsburgh Arts Council
and the City of Pittsburg Department of City Planning, and funded by the Heinz Endowments. It is divided into four separate tours, each
approximately 90 minutes in duration. The tours can be downloaded from the Office of Public Art's web site, shown above. Put on your
walking shoes.
Pittston Susquehanna River Sculpture Park
Pittston, Pennsylvania

BrookGreen Gardens
Murrell's Inlet, SC
(800) 849-1931
Native plants, regional history & over 500 outdoor representational sculptures - the largest collection of American figurative sculpture in the US. (Paul Manship, Anna Hyatt Huntington, Gutzon Borglum & Glenna Goodacre)

South Carolina Botanical Gardens Botanical Sculptures
Clemson University
109 Daniel Drive
Clemson, SC 29631 Tel: 864 656-3311
Tthe 295 acre grounds of the Fort Hill Estate of John C. Calhoun, vice president of the United States in 1820, are now operated by Clemson Univeristy as the SCBG. Ernie Denny, Director of the Gardens selected the first nature-related site-specific sculpture for the gardens in 1995. It was "The Crucible" was done by artist Herb Parker. There now over 10 site specific sculptures on the grounds

The basic concept was to allow art and nature in the form of landscaping live in an interactive mode, what Ernie calls Earth-specific sculpture. In some cases the sculpture is allowed to be subsumed by the surrounding growth, what might be called decomposition-art. The gardens are a place where human activity can co-exist with nature, working with it rather than against it. It must be like the ruins at Anghkor Vat in Cambodia where the jungle is swallowing the ancient buildings in the archaeological sites.

The gardens started as a collection of camelia plants near the red caboose entrance. Pathways meander through March daffodils, rhododendrons, log cabins, several gazebos and a duck pond. Admission is free.


Carell Woodland Sculpture Trail (Cheekwood)
1200 Forrest Park Drive
Nashville, TN
Opened June, 1999, Cheekwood is 8 miles south of Nashville & establishes Nashville as an "Instant" sculpture destination for world class international sculptures. The 55 acre park includes work by: Armajani, Ian Hamilton Finlay, Rickey, Ulrich Ruckriem and James Turrell among others.

Hunter Museum of Art Sculpture Garden
10 Bluff View
Chattanooga, TN 37403
423 267-0968
Ellen Simak, Curator
Situated on a 100 foot high bluff overlooking the Tennessee River and downtown Chattanooga, the park includes sculptures by George Segal, John Henry, William King,Louis Nevelson and Alexander Calder.
River Gallery Sculpture Garden
Bluff View District
400 East 2nd St
Chattanooga, TN 37403
Tel 423-265-5033
This a two acre park in the Bluff View Art District with a collection of work done by national and international sculptors. Mary Portera, Director.
TEXAS

Austin Green Art
Austin, Texas
Austin Green Art is an environmental public art organization founded by Austin sculptor Randy Jewart, to bring an awareness of the concept of community-based public art to Austin. Premiering June 10th, 2005 during the Americans for the Arts Conference, "green wave" will feature sevel large scale artworks installed in Austin public park sites. Public art will remain on the sites for up to one year. Austin Green Art will feature artists from all around the country plus three from Austin.
For further information please see their web site.
Buffalo Bayou Art Park BBAP
P.O. Box 70260
Houston, TX 77270-0260 Tel: 713 502-9459
email: bbap@bbap-houston.org
Changing art exhibitions in the Buffalo Bayou area of Houston. Check website for current and upcoming exhibitions.
Benini Foundation and Sculpture Ranch
377 Shiloh Road
Johnson City, Texas 78636
Tel 830 868-5244 or email: lorraine@benini.com
One hour west of Austin or San Antonio in the Texas Hill Country is the setting for the Sculpture Ranch, situated on 140 acres which features large-scale, contemporary sculpture by national and international artists. Open by appointment. Also on the grounds is a 14,000 square foot gallery featuring the work of Benini and guest Italian artists.

Buffalo Bayou Artpark
3201 Allen Parkway Site 150
Houston, TX 77019
(713) 520-0152
From a guerilla show in 1987 on the site of the old Farmer's Market BBAP has grown into an artists run Houston showcase for site specific temporary public outdoor art. The Artpark is a non profit 501c (3) corporation that manages changing art exhibitions along the banks of lush bayous on the north side of Houston. Usually 20-25 pieces can be seen for up to nine months. Small stipens are available for visiting artists and there is artist-in-residence program in its incipient stages. Directors: Kevin Jefferies/ Gregg Bruegger.

Cadillac Ranch
Hwy 66
Amarillo, TX
For over 25 years motorists and artnuts around the world have been entertained and puzzled by the 10 graffiti-covered Cadillacs buried nose first, into the ground of a private wheat field on highway 66, near Amarillo, Texas. It was brain child of artists: Hudson Marquez, Chip Lord and Douglas Michels; collectively known as the Ant Farm. Originally the idea was to show off the trade mark tail fins of the Caddies. It became such an interactive treat to paint and scribble on the cars that they became an eyesore. Now they are being restored with funds from a hotel chain. Thank you Hampton hotels!

Chinati Foundation
Marfa,TX
Where's Marfa? Ten hours driving time from Houston or Dallas. Three hours from either Midland/Odessa or El Paso. Why bother? The Chinati Foundation is located on the former Fort Russell, Marfa, Texas, Air Force base, on 340 acres that were purchased with the assistance of the DIA Art Foundation to exhibit the art work of New York artists Donald Judd, John Chamberlain and Dan Flavin. It was opened in 1986 as a non-profit publicly funded institution. Since inception other artists have been added to the collection. The core holdings are 15 outdoor concrete sculptures by Donald Judd; and 100 aluminum sculptures also by Judd in two airplane hanger-sized buildings. One of the buildings has signs indicating that it had been used as a German prisoner of war camp during WWII.

In addition there are 25 sculptures by John Chamberlain, and an installation of by Dan Flavin in six former wooden barracks. Carle Andre, Richard long, Claes Oldenburg, John Wesley and David Rabinowitch; each have work installed in separate barracks-like buildings.

Chinati is the name of a mountain range 70 miles south of Marfa along the American side of the Rio Grande River, Presidio, Texas. Marfa is in the high desert of West Texas. On the eastern outskirts of Marfa, on certain nights when conditions are right, it is claimed that you can see flying saucers and extraterrestrial lights. Other than that Marfa is a wide spot on the road, on the way to the Big Bend country.
Dallas Museum of Art
Dallas, TX
Reflection pool, site-specific works and 20 sculptures by Bourgeois, Hepworth, Kelly and Stella.

GlassTire
Texas Visual Art Online
Marvelous recommendations of what to see in all the major cities and areas of Texas. Enjoy!

Huntington Sculpture Foundation
P.O. Box 145
Coupland. Texas 786515
512 865-2334
Jim Huntington was born 1944, Elkhart, Indiana. It was not until the mid 70's that he started working in a granitic bluestone that is native to upstate New York, and Pennsylvania.He completed his first human scale stone and steel sculpture in 1977, "Inheritor". It is now in the permanent collection of the Storm King Art Center, Mountainville, NY.
The same year he also completed "Dayton", another stone and steel sculpture, which is now in the permanent collection the Laguna Gloria Museum, Austin, Texas. The stone and steed steel pieces were soon followed by "Imaginal Bodies", a series of stone sculptures that partially cover some open areas on the surface of the sculptures. Grounds for Sculpture, Hamilton, New Jersey. bought one for their collection.
In Coupland, fifty sculptures by Jim Huntington, can seen in a park-like area, near downtown.
McNay Art Museum
6000 N. New Braunfels & Austin Hwy,
San Antonio, TX
(210) 824-5368
Located on 23 acres minutes north of downtown San Antonio, The Mc Nay is having its first out door sculpture exhibition. Curated by Martin Friedman, former director of the Walker Art Center, Minneapolis, 17 metal sculptures by Joel Shapiro will be on display.
On one of the pages on their web site, I spied a wonderful five element George Rickey kinetic sculpture sitting in pond in front of the stately colonial style museum.

Meadows Museum
Southern Methodist University
Dallas, TX 75275
Tel: 214 768-2516
On the granite entrance plaza to the museum are sculptures by James Surls, Claes Oldenburg, Henry Moore and Barabara Hepworth. Next to the steps leading to the plaza is a very large scale bronze kinetic sculpture, "Wave" by architect Santiago Calatrava. The sculpture is made of segments that move in a manner to simulate wave action. The museum houses a fine collection of Spanish art, perhaps one of the best outside Spain; Diego Velazquez to Antoni Tapies.

The Menil Collection
1515 Sul Ross
Houston, TX 77006
Tel: 713 525-9400
The Menil Collection is really an "art neighborhood" bordered by Mandell Street on the north, Yupon on the south; West Alabama on the east and Richmond Street on the west. Within these bounds are the Menil Collection building an outstanding building designed by Renzo Piano. The museum houses over 15,000 paintings and sculptures; the collection of John and Dominique de Menil, of Schlumberger fame. Of particular interest is their splendid holdings of surrealist art. Prime examples are by Max Ernest, Joseph Cornell, Magritte and Tanguy.
Across Branard Street is the Cy Twombly Gallery which is dedicated to the display of artist Cy Twombly. Scattered throughout the neighborhood are 1920's era gray cypress wood bungalows that are maintained by the Menil Collection to preserve the integrity of this cultural oasis.
Other important independent collections in the area are the Rothko Chapel famous for its superb almost mystical paintings by Mark Rothko in an octagonal-shaped structure. This is combined with Barnett Newman's
"Broken Obelisk" in a reflection pool. The setting is spell binding. A few steps away is the University of St. Thomas with its handsome campus buildings designed by Mies Van De Rohe.
In various select locations are outdoor sculptures in the "Art neighborhood" are sculptures by Michael Heizer; Tony Smith; Mark di Suvero, and Loreto Park which exclusively devoted to one multiple element sculpture by Tony Smith "The Elevens Are Up" and "Wall" done 1963 and 1966 respectively.

Modern Art Museum of Fort Worth
3200 Darnell St. at University Drive
Ft. Worth, TX 76110
tel: 866 824-5566
The architecture is worth the trip from Dallas alone. Tadao Ando placed the new museum in a reflection pool of water not unlike a moat of yore. There is not much outdoor sculpture except a humongous Richard Serra steel vertical sculpture that goes well with the smashing architecture. In yelling distance, is the Kimbell Art Museum another museum not be missed.

The Museum of Fine Arts, Houston
Lillie & Roy Cullen Sculpture garden
1001 Bissonnet Street
Houston, Texas 77005
Directly across the street from the Museum of Fine Arts and making a pathway to Glassell School of Fine Arts is the world famous Cullen Sculpture Garden designed by Isamu Noguchi in 1986 is located one acre. The garden was designed for 30 thirty sculptures comfortably. Tall walls, landscaped stone pathways and handsome selected trees and open spaces, all make this garden a masterwork.
The work of sculptors included in the permanent collection are di Suvero; Bourdelle; Fontana; Bourgeois; Hepworth, Stella; Shapiro; David Smith; Marini; Giacometti; Calder and Caro. The park/garden setting is a place for contemplation, in contrast to the usual visual clutter of downtown unplanned Houston. Enjoy!
I almost forgot, across Bissonnet Street, in the MFAH main building there is tunnel passageway that links under Main Street to the other MFAH building. It has illuminated walls and ceiling the whole length of the tunnel by James Turrell. Worth a visit.

Mustangs Sculpture in Las Colinas
Williams Square
O"Connor Road at Highway 114
Irving, TX
The Mustangs of Las Colinas
Imagine nine cast bronze monstrous horses twice life-size galloping and splashing their way, crossing a stream cut through a stone and granite plaza surrounded by a colony of skyscrapers. It really gets your attention, and impossible to ignore. It is a thrilling reminder of the early Spanish history of Texas. Horses were brought to this country by the early Spanish settlers from their homeland. A visit here is a must see. Mustangs sculpture images

Nasher Sculpture Center
2001 Flora St.
Dallas, TX 75201
(214) 891-8570
Yes, it is open now! This new world class $32 million sculpture center, designed by Renzo Piano, with landscaping by Berkeley's Peter Walker, has been a work in progress for over ten years. Dallas real estate developer, lawyer, insurance company executive and philanthropist; and his late wife, Patsy, collected over 300 large scale sculptures, over a forty year period. First, the sculptures were on display in his "North Park" center real estate complex. Now they have a permanent home in this new sculpture center, adjacent to the Dallas Art Museum in downtown Dallas.
This is one of the finest sculpture collections in the world. Dallas has become an art destination!
You name great sculptors, they are here. Gabo, Matisse, Henry Moore, di Suvero, Hepworth, Calder, Max Ernst and Magdalena Abakanowicz. And that is just the beginning. For starters, the Center opened with 66 sculptures by 40 artists. Sculptures from the Foundation collection will be displayed on a rotational basis. Enjoy!

Nasher Sculpture Center Sculpture Garden
Dallas/Fort Worth International Airport
Terminal D - Arrivals Area
Similar to the 2002 opening of the branch of the Rijksmuseum at the Schipol Airport in Amsterdam, The Nasher Sculpture has opened a sculpture garden at DFW. On display are four sculptures "New Beginning" by Mark di Suvero, "Fanshoal" by Anthony Caro, "Torus orbiculans" by John Newman and "Chicota" by Mac Whitney. Open to the public. Fee required for admission.


*Rothko Chapel & Sculpture Reflection Pool
Houston, TX
Tel. 713 524-9839
Part of the Menil Collection, located on the campus of the University of St.
Thomas, in downtown Houston, is an amazing art and architectural treat. Inside an octagonal shaped chapel are eight large scale Rothko paintings surrounding benches for reflection and meditation. As you concentrate on the paintings they become magical. The heavy purple, dark red and black colors begin to pulsate in and out and take on a life of their own. Most impressive!
Outside the main entrance is a large reflection pool with a Cor-ten rusted
steel "Broken Obelisk" sculpture by Barnett Newman at the far end. During
the course of a day the shadows cast by the obelisk and passing clouds make
wonderful reflections on the surface of the water.

Howard Rachofsky
3605 Preston Rd.,
Dallas, TX
(214) 750-9766`
Large contemporary Bauhaus-influenced residence in north Dallas designed by Richard Meier, recently installed a large front lawn sculpture, "Tilted Planes", by Robert Irwin. Indoors he has work by Richard Serra and Donald Judd. Feature article in the New York Times, Thursday, June 15, 2000 describes his collection and indicates that it is open by appointment only.

Texas Sculpture Garden
Hall Office Park
6801 Gaylord
Frisco, TX
Located one-half mile north of State Highway 121 on Dallas North Tollway, in Frisco, Texas, the Texas Sculpture Garden is approximately 30 miles north of downtown Dallas. Started by real estate developer Craig Hall in 1990, the sculpture garden has 17 outdoor sculptures and 20 art works indoors in the lobby areas. The outdoor sculpture collection is the work of contemporary Texas artists selected by curator, Patricia B. Meadows.

Texas Society of Sculptors
PO Box 49291
Austin, TX 49291
While in Dallas recently I visited the North Park Mall owned and operated by Raymond Nasher, who is world famous for his world class sculpture collection. On display was a changing exhibition of over 100 sculptures by Texas sculptors, sponsored by the TSOS and selected by Raymond Nasher. Also scattered around the plaza, inside and out are sculptures that are part of the Nasher collection.
I would not have known about the show had I not been in contact with Betsy Kinney, President of TSOS: betsyjoycekinney@alumni.utexas.net ; tel: 214 987-3748. She was very helpful in assisting me in finding outdoor sculpture to see in and around Dallas.
Tortorici International Contemporary Art
427 W. Main St.
Dennison, TX 75020
(903) 465-4388
Sculptor B. Tortorici's monumental outdoor sculptures can be seen in two buildings and outdoors.

Robert Smithson's Spiral Jetty
On The Great Salt Lake
Near Brigham City, Utah
(75 miles north of Salt Lake City)
Finally back above water! Artist Robert Smithson built this classic earthworks sculpture from materials nearby in 1970. Soon after completion of the jetty the level of the lake rose to record levels and Spiral Jetty has been submerged continuously until just recently. Now the lake level is back to 1970 levels and the sculpture can be seen again. Annual low lake levels are reached in October and November. For up-to-date water levels, and visibility of the jetty, you can telephone the Bureau of Land Management in Salt Lake City: (801) 539-4001 for additional information.
The above National Park Service web site has detailed directions and a map on how to find the Spiral Jetty; along with charts of lake levels going back to 1845 and up to July 15, 2002. The Jetty is 15 miles southwest of the Golden Spike National Historic Site on a dirt road connecting to the lake.
The GSNHS commemorates the location, Promontory Point, where the Union Pacific and Central Pacific railroads tracks met on May 10, 1869, completing of the first transcontinental railroad. During summer months two full scale replicas of the actual steam locomotives, Jupiter (CP) and 119 (UP) operate daily, decorated in their authentic original bright colors. "Everlasting Steam". Fate of "Jupiter" and "119"


Sculpturefest
An annual outdoor sculpture exhibition held every fall in Woodstock, Vermont.
Spirit of Place
Burlington, VT
(802) 434-3285
Private changing shows of site specific sculptures on 12 acres.
Knox Cummin, Director

Marble Street Sculpture Park
Marble Street Extension
West Rutland, VT (802) 273-2278
Mike Winslow, director
Situated in the historic quarries around Rutland, Vermont features regional artists

Virginia

National Memorial Park Cemetery
7400 Lee Hwy
Falls Church, VA 22046
Tel 703 560-4400
Near the front of the 180 acre private graveyard is the Carl Milles Fountain of Faith complete with 38 life size bronze sculptures done by the Swedish artist. It took Milles 12 years to complete the fountain which was dedicated in 1952. Many of the figures depict people the artist knew, "Each figure is a portrait"- Open dawn to dusk.

WASHINGTON

Arts Resource Network,
a new arts portal Web site for the Seattle arts community, sponsored by the Seattle Arts Commission, an agency of the City of Seattle. Arts Resource Network provides access to a range of information and links about the arts and arts opportunities, as well as the opportunity to connect with others and explore art forms.

Maryhill Museum of Art
35 Maryhill Museum Drive, Goldendale, WA 98620
(509) 773-3733, fax 773-6138, lee@maryhillmuseum.org
Entrepreneur, monument builder (the Blaine Peace Arch) and railroad lawyer Sam Hill turned his mansion overlooking the Columbia River Gorge into an eclectic museum. Inside are drawings and sculptures by Rodin, including a version of "The Thinker, 800 Native American baskets & the personal collection of Queen Marie of Romania. A sculptural overlook on the Museum's edge offers panoramic views of the Columbia River Gorge and Mt. Hood. The Outdoor Sculpture Invitational uses the park like gardens as a backdrop for works by Mel Katz, Heath Krieger, Brad Cloepfil, and others . Three miles east of the museum is Sam Hill's Stonehenge replica, built to honor the Klickitat County men killed in World War I.

Monarch Contemporary Art Center & Sculpture Park
Tenino, WA
Myrna Orsini, Director.
Situated on 80 acres with great vistas of Mt. Rainier, is only two hours via car from either Portland or Seattle. There are over 40 sculptures in the park from the Pacific Northwest and as far away as Georgia. Monarch has on a rotating basis over 100 pieces of sculpture on the grounds. Val Welman, Micjah Bienvenu, Dennis Peacock, Philip Levine, Vasily Fedourouk, Benbow Bullock and Myrna Orsini are just few of the many distinguished sculptors represented. There is a 2/3 of an acre hedge maze in the shape of a butterfly that accommodates 20 sculptures. A Sound Garden of musical sculptures invites interaction. A Nature Trail that leads to a Fantasy Garden surprises and delights the visitor. For paintings and indoor sculptures, there is a new indoor gallery with an attached outdoor courtyard and fountain. In 2006, the train from Tacoma to Mount Rainier will be bringing tour group visitors to the park.

Peace Arch Park International Sculpture Exhibition
Blaine, WA
The Peace Arch Park International Sculpture Exhibition is a five month exhibit featuring
outdoor sculptures of American and Canadian fine artists.
Peace Arch Park is open for visitors 8am to dusk daily and it is free to the public.

Port Angeles Fine Arts Center
Beaver Hill
Port Angeles, Washington
Next stop Honolulu! The Port Angeles Fine Arts Center is the western most art center in the contiguous United States. Open all year round, the Center is located in the shadow of the Olympia National Park, overlooking the Straits of San Juan de Fuca. The center is housed in a circular home designed in 1951 by architect Paul Hayden Kirk for Esther Barrow Webster. PAFAC has presented 115 gallery exhibitions since 1986 and five seasons of Art Outside since 2000. The work of over 500 artists from the Northwest have been featured in changing exhibitions.
San Juan Islands Museum of Art and Sculpture Park
Roche Harbor
San Juan Island, WA
360 370-5050 email: admin@westcottbay.org
The 19 acre Sculpture Park was opened in 2001 by founders Kay Kammerzell and Arnie Klaus. On a beautiful open park area next the Roche Harbor Resort overlooking Westcott Bay in the San Juan Islands, visitors will discover over 100 outdoor high quality sculptures. In an interesting arrangement, the Kammerzells negotiated a plan with the inn to provide mitigating open space in the form of a sculpture park, to allow the inn to expand its operations. The park is accessible by ferry, water craft and airplane year round.
Friday, May 23, 2003, Benbow, with the help of Jeff Brash, Arnie Kamerzell and the Orcas Island Power Coop post hole crane/digger crew, completed the installation of Bullock's 30 foot high sculpture "Not Your Average Beanstalk". In memoriam to "The Cremation of Sam McGhee", a fire engine red helicoidal spiral auger, now seems to soar on an upward journey in the direction of the Northern Lights, over the marge of Lake Labarge. A new edition to Bullock's series of endless column sculptures.
* Seattle Center and Sculpture Park,
Seattle, WA
On the site of the World's Fair, Seattle Center includes the Space Needle along with sculptures by Ron Bladen and Tony Smith. While in Seattle checkout the wonderful Henry Moore "Reclining Woman" in front of the SeaFirst Building, and the Michael Heizer in a park setting on the waterfront.

Seattle Art Museum - Olympic Sculpture Park
Seattle Art Museum
PO Box 22000
Seattle, WA 98122
(206) 654-3221
Adjacent to the Myrtle Edwards waterfront park, the new 8.5 sculpture park has opened. Lisa Corin, SAM curator, leads artistic programming for the park. Central to the permanent collection will be Alexander Calder's "Eagle" stabile.
A "Z" shaped route connects the edge of the City with the shores of Elliot Bay. New York architects: Weiss/Manfedi developed a plan tieing three parcels of land into one civic open space, which includes a pavilion for shelter, and exhibition spaces, including an ampitheater.
Landscape architect Charles Anderson creates unique landscapes that take advantage of the spectacular views of Puget Sound and the surrounding mountains.
Spokane Art Walks
Spokane Arts Commission
808 West Spokane Falls Blvd
3rd Floor City Hall
Spokane, WA 99201
T (509) 625-6050
kmobley@spokanecity.org
Yes, there is sculpture in downtown Spokane. Large scale outdoor sculptures...The city has a strong tradition of outdoor artworks & includes a wide variety of styles and work by many artists. Visit River Front Park to see a large complex aluminun sculpture sitting on an island in the middle of the river. Larger than life steel walkers and runners hit the pavement
daily in David Govedare's "Joy of Running"

Western Washington University
Bellingham, WA
Approximately 90 miles north of Seattle, near the Canadian border, is the beautiful campus of WWU. It includes sculptures by Caro, Serra, Noguchi, di Suvero and a 15' high bronze and beeswax tower by Magdekena Abakanowicz. Bring a picnic and spend the day. Great views of the San Juan Islands from the campus as well.

Whitman College Campus Sculpture
345 Boyer Avenue
Walla Walla, WA 99362
Tel: 509-527-5111
Whitman College is creating a free form sculpture park on campus similar to Storm King Art Center and the Putnam Collection at Princeton. Over twenty high quality outdoor sculptures are installed on the beautiful well landscaped campus, with more on the way. "Styx" , a bronze horse by Deborah Butterfield, was cast the local nearby Walla Walla Foundry.
Other sculptures include: "Three Stories" is a whimsical cast bronze sculpture reminding visitors of an Asian outdoor market scene; and "Four Columns" a Cor-Ten steel sculpture by sculptor Lee Kelly was influenced by recently discovered ancient Persian columns. The spouting waters of George Tsutakawa's cast bronze "Fountain of Vibrant Waters" are continuously recirculating from a large pool at the base of fountain. A recent addition is "Moongate", a sculpture with six large scale burnished stainless steel hoops that while static, appear to be kinetic, in motion, by Benbow Bullock.
The town of Walla Walla, and the Whitman campus have the charm and warmth of a New England small college campus and community like Amherst, Williams or Wesleyan. Walla Walla is joining with thecollege to expand its own collection of outdoor sculptures with new ones scattered throughout the downtown area.

Leigh Yawkey Woodson Art Museum
Margaret Woodson Fischer Sculpture Gallery
700 North 12th Street
Wausau, WI 54403
715-845-7010
1.5 acre garden with sculptures by Debra Butterfield, Kenneth Bunn, plus temporary installations.

Fred Smith's Wisconsin Concrete Park
Highway 13
Phillips, WI
http://www.roadsideamerica.com/attract/WIPHIconcrete.html
http://www.rawvision.com/back/wisconsin/wisconsin.html
In the northwest corner of Wisconsin near the Flambeau Flowage, is the town of Phillips in Price County. If you slow down and stop on Hwy 13 near the Rock Garden Tavern you will be greeted by over 200 concrete indians, cowboys, Paul Bunyan and Babe the blue Ox; Sacajawea;The Budweiser Clydesdale horse team and beer wagon; and other more than life-sized figures.
These are the creations of a retired lumberjack, Fred Smith (1886-1976). Fred was a self-taught illiterate artist who chose concrete and beer bottles as his media. His efforts are reminiscent of Sam Rodia's Watts Towers in Los Angeles. Soon after his death iun 1976, a large storm blew over most of the standing figures. The Kohler Foundation assisted in their preservation and continuous operation.

Bradley Family Foundation,
2145 West Brown Deer Road, Milwaukee, WI 53217
(414) 276-6840. By appointment only.

______________

LOS DIAS DE LOS MUERTOS
Days of the Dead Celebrations November 1st and 2nd annually
Marigolds, mariachis, food (lots of it), tequila,art work with lots of skulls, cerveza and story telling; this happens in cemeteries all over Mexico when they celebrate the cycle of life each year. It is truly a beautiful and emotionally touching event. Listed below are links to web sites that feature this event. Arriba y adelante.

azcentral.com/rep/dead

NorthernNotes from Northern Illinois University

dayofthedead.com
(books and images for sale)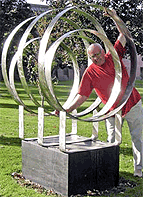 Benbow Bullock
---
12 Sandy Beach Vallejo, CA 94590
---
510.245-2242 voice 510.245-2252 fax
---
Copyright © Benbow Bullock, 2010