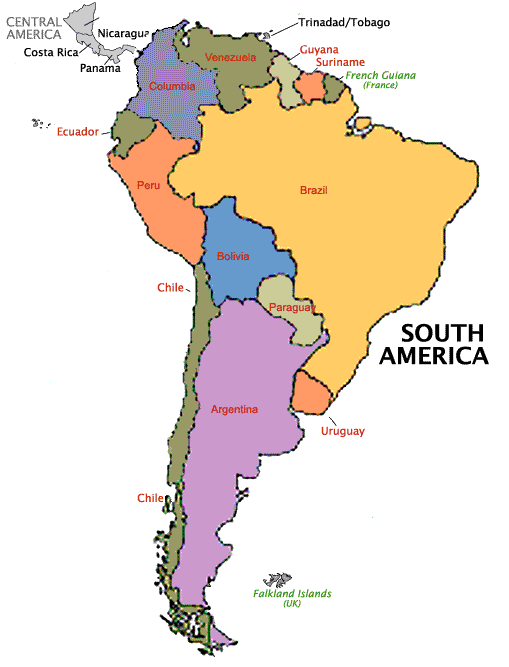 ARGENTINA BOLIVIA BRAZIL CHILE COLUMBIA ECUADOR FRENCH GUIANA GUYANA
PARAGUAY PERU SURINAME URUGUAY VENEZUELA
ARGENTINA

BOLIVIA

BRAZIL

Christ the Redeemer of Open Arms
Corcovado Mountain
Rio de Janiero, Brazil
This international monument over looking the city of Rio, is probably as well known as the Statue of Liberty. It is over 100 feet high, made of concrete and steel, and is covered with a mosaic of soapstone.
It was designed by engineer Heitor da Silva and executed by French-Polish sculptor Landowski in 1931.

Lucia Miguel Pereira Sculpture Park
Rua Beira, No. 7
Paty do Alferes
Rio de Janeiro
Brasil cep 26950-000
Tel: 55 24 2484 4269, usamama@zaz.com.br
At an elevation of 2,000 feet, this 40 acre sculpture park was formerly a century old coffee plantation, 70 miles from downtown Rio de Janiero. The tropical sculpture park is the creation of sculptor Gabriel Fonseca, who lives in Rio, and has a studio in this renovated mansion.
A lot of his work is influenced by his interest in orchids, and other tropical flowers. He studied and worked as an engineer before he retired. There is some work on display by other Brazilian sculptors, but the large scale outdoor sculptures are the work of Gabriel.
CHILE

El Parque Esculturico Cementerio de Carretas en Putaendo
(The Cart Cemetery Sculpture Park)
El Llano, Putaendo, Chile
The first sculpture park in Chile opened in February, 2001 with work by mostly sculptors from the Americas. 20 sculptors spent four weeks in this hot dusty plain two hours by car north on Santiago to make site specific sculptures. The central theme is converting wooden 2 wheel oxen carts that formerly were used to haul goods and people into sculptures. The park consists of 200 acres owned by 80 residents who own houses around the edge of the park. This will become an annual event if the director, Ricardo Vivar, has his way.

VENEZUELA

Sculpture Garden of the Museum of Fine Arts-Caracas
Parque Los Caobos
Caracas, DF 1010,
Venezuela
Maria Elena Ramos, President
tel: 58-2-578 21 97
Splendid collection of sculptures by international artists. Work of Sergio de Camargo-Brazil; Alicia Penalba- Argentina; Luis Camnitzer- Uruguay; Calder-USA; and Jacques Lipchitz-France as well as others are on view. If you get bored you can also enjoy plays, dance, storytellers, concerts or simply rest or walk through the 7700 square meter tropical park.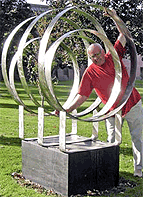 Benbow Bullock
---
12 Sandy Beach Vallejo, CA 94590
---
voice 510.245-2242
fax 510.245-2252

---
studio fax 707.557-0292
---
Copyright © Benbow Bullock, 2009