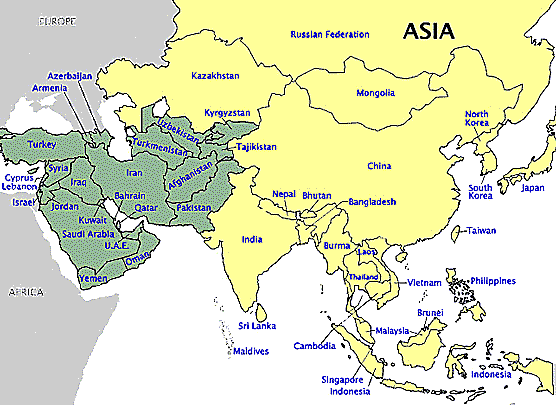 ASIA & THE MIDDLE EAST

BRUNEI CHINA INDIA INDONESIA ISRAEL JAPAN KOREA SINGAPORE TAIWAN THAILAND TURKEY
BRUNEI
Brunei Darussalam
Mile 3 Jln Tutong, Bandar Seri Begawan
brunei.gov
This is the official government web sites and has links to cultural and arts related events and exhibitions.
Changchun International Sculpture Park
Liaoning Province
CHINA
In Spring 2003 the world's largest permanent sculpture park will open in Changchun, the capital of the Liaoning Province. 80 acres have been developed out of the whole project which when completed will be 150 acres. There have been four Annual International Sculpture Exhibitions since 1997. When the sixth exhibition opens Spring 2003 there will 260 sculptures on display from over 80 countries all of which have appeared in former Changchun Exhibitions.

Guide to Sculpture in Hong Kong
Victor Tai
hksculpture@hotmail.com
Hong Kong Sculpture Society
Flat B, 8th Floor,
Kam Kin Mansion, 119-125 Caine Road
Mid-Levels
Hong Kong
After four years of research and 250 field trips, Victor Tai, Managing Editor, has published a magnificient contribution to help locate sculptures by district, artist and media. There will be two volumes. The first is out now, on Hong Kong. The second volume will be out soon, on Kowloon and the New Territories. The combined volumes will record 320 sculptures done by both local and international sculptors. This is a long overdue treat!

Island East Artwalk
Swire Properties
Hong Kong
Island East was brought to my attention by Victor Tai, who lives in Hong Kong and is a practising
artnut, architect and sculptor. This collection of sculptures and artworks is made possible by Swire Properties, large developers and property owners in downtown Hong Kong. Many sculptures, paintings and site specific installations are to be found on the walls, corridors, open areas, lobbies and bridges in the Island Eastern Corridor. Art is done by local and international artists. Checkout their web site which has background information on the artists and a map showing the location of specific works. Extremely well done.

Tung Chung Artwalk
Hong Kong Housing Authority
Another gem brought to our attention by Victor Tai, Hong Kong architect. The HK Housing Authority has enlisted the work of local artists and sculptors to produce Public Art in various projects. Their web site has photographs of sculptures and wall relief murals, as well as a site map. A breath of fresh air in busy Hong Kong.
The Sculpture Walk
Kowloon Park, Hong Kong
Over 25 steel, bronze and marble sculptures by mostly Chinese sculptors grace an open air plaza just off Nathan Road. From zero sculpture ten years ago to 60 mph today! Excellent works, well displayed. Curated by Hong Kong Museum of Art Urban Council.
Also the recently opened Museum of Modern Art on Salisbury Road, Kowloon, is a must see.

The Rock Garden
Nekchand Foundation
Chandigarh, India
Chandigarth was the modernist city planned by Le Corbusier in 1958. Nek Chand moved to northern India to work as a road inspector for this government project. At the same time he was planning his magical
outdoor project. He started building his project, in secret, in 1965 on several acres of government land. Ten years later the authorities discovered his magical secret project, a complex that by then had over two hundred pottery covered concrete statues of men. Public pressure on the government was successful in preventing the demolition of his project. Chand was given a salary and a crew of workmen to help finish his project. It now covers over 40 acres and was opened to the public in 1976.Second only to the Taj Mahal, it is a most visited site in India..


INDONESIA

T.I.M. Art Centre
Taman Ismail Marzuki
Jl.Cikini Raya 73
Jakarta 10330
Indonesia
Tel: (62-21) 337325
TIM is the largest cultural center in Souteast Asia. It consists of Theaters, academy of arts, an archives building, exhibition halls and a planetarium.It is focal point of contemporary Indonesian art with heavy emphasis on music and dance.Performing art of some kind is available every evening. In addition there are changing international art exhibitions. Benefactors of the art institute include: Aminef, Fullbright and Ford Foundations; Minerva Kunst Akademe, NL; and Monash University of Australia.Support also comes from the British Council; the French Cultural Center and the Goethe Institute.


Desert Sculpture Park
Negev, Israel
No shade here, but lots of sun in the desert. Work by Israeli sculptors well displayed.

Israel Museum
Billy Rose Sculpture Garden
Ruppin Blvd, 91012 Jerusalem 972- 70 89 02
Zen like garden setting designed by Isame Noguichi. Sculptures in the 5 acre park include work by: Henry Moore, Bourdelle, Maillol, David Smith & Richard Serra. Best resource for contemporary art in the Near East.

The Open Museum of Israeli Art
Tefen Industrial Park
Migdal Tefen, 24959;
ISRAEL
Tel: 972-4-9872977
The sculpture consists of 29 acres in an industrial park in Western Galilee with over 500 pieces of art on display. For more information contact: Ruth Ofek, Curator

Tel Aviv Museum of Art
Lola Beer-Ebner Sculpture Garden
Over thirty 20th century works by Israeli and international sculptors are in their permanent collection. In addition they having changing temporary exhibitions. Most recently there were six sculptures by David Smith

Stone In Galilee Symposium
Maaklot-Tarshiha, Israel
On the border with Lebanon every year there is an annual symposium in which artists from Israel and abroad create sculptures from massive blocks of stone for ten days. The quality of the work is quite professional. The public is invited to watch the works in progress.
For more information contact David Gur

Ursula Malbin's Sculpture Garden
"Mizpor Shalom" (Vista of Peace)
Zionism Ave. 112 and Second November Road
Haifa, Israel
Twenty nine bronze life size sculptures of children, animals and birds gracefully play and romp on this hilltop sculpture garden in Haifa. These are the elegant works by 82 year old Ursula Malbin who divides her time at Ein-Hod studio and Troinex village near Geneva where she lived during World War II. In addition to the wonderful sculptures, the garden surveys the Haifa harbor on the Mediterranean and wraps around to the hills of Galilee and Lebanon. It is truly a peaceful oasis in the middle of war torn Middle East.

Dear Mr. Bullock,
I was a former curator at the Singapore Art Museum for 4 years, and am now an independent curator and art consultant. I also surf the web frequently to keep up with art practices happening outside Singapore.
Your site is a small miracle for those who research sculpture and public parks. It remains on my hit list for its extensive reach and coverage. Its openness and usefulness as a major resource for artists,critics, researchers, and enthusiasts speak of your own generosity and willingness to share - qualities that are always appreciated in the academic world and field of practice !!
Lindy Poh
Silver Rues Art Consultancy, Singapore
Benesse Art Site Naoshima
850-2 Naoshima-cho, Kagawa
761-3110 Kagawa
Tel: +81 (0) 87 8922030
"The Marfa of Japan" is what one art critic calls this art site located on a smalll island in the Seto Inland Sea, near the city of Takamatsu.Nao-Shima island has a population of 3,400 people, in contrast to other small cities in Japan, have populations exceeding one million. The main and only hotel on the island, is the Benesse House, a museum where you can spend the night, designed by the internationally known Japanese architect Tadao Ando.. Nearby, Tadao and selected artists have converted old houses, some 100 years or older, and the space insid, into a new "work of art". All of the art on display at Benesse is site-specific, including work by Richard Long and Hiroshi Sugimoto, indoors. Outdoor installations, along the waterfront, are sculptures by Yayoi Kusama and Cai Guo-Qiang
In the Chichu Art Museum, also designed by Tada Ando, has sculptures done by James Turrell and Walter de Maria,. Inside is one of Monet's famous "Water Lilies" paintings, overlooking a garden filled with plants that Monet included in his paintings. The museum is literally underground,and from a distance it looks like a concrete bunker.
The island art project is the dream of Tatsuhiko Fukutake, president of Fukutake Publishing. In some respects, it is similar to Hakone Open-Air Museum, near Odowara, developed and owned by the Fuji-Sankei TV Corporation.
Chichu Art Museum
3449-1 Naoshima,Kagawa 761-3110
Tel: 81 (0)87 8923755
Naoshima Japan
Designed by Architect Tadao Ando, the museum consists of three underground stories of galleries in a large cliff on the island of Seto. From the outside the building itself and the hillside on which is located, look like a series of concrete bunkers left over from WWII. The museum was created to encourage visitors to contemplate the relationships between man and his environment.
The museum is dedicated to site-specific works of sculptors James Turrell and Walter de Maria. There is also a garden connected to the museum that is landscaped with flora like that at Giverny. This setting compliments the four Claude Monet Water Lily Pond paintings hanging in a gallery designed just for them.
Domon Ken Photography Museum
2-13 Limori-yama
Limoriyama Park
Sakata, Yamagata Prefecture, Japan Tel: 0234-31-0028
email: sakata@city.sakata.yamagata.jp
This is the first museum in Japan to display solely the work of one photographer, Domon Ken, opened in 1983. TheIsamu Noguichi designed the sculptural works and Hiroshi Teshigawara designed the garden

* Hakone Open-air Museum
Ninotaira Hakone-machi, Kanagawa 250-04, Japan
Situated in the foothills of Mt Fujiyama, Hakone has a most dramatic setting. The vistas through the clouds is spectacular. The site consists of over 70,000 meters of rolling landscaped hills and includes over 200 sculptures by internationally acclaimed sculptors. The Museum has the largest collection of Henry Moore sculptures outside the U.K.
Bullock's They Laughed at Columbus, a painted steel triptych won the Ueno Royal Museum Award in 1989 and is in their permanent collection. The following year the museum also purchased his "East is East" also a painted steel sculpture.

Hara Museum of Contemporary Art,
Tokyo and Gunmaken, Japan
Eclectic selected works by international as well Japanese sculptors.

Joinus Sculpture Park
Yokohama Railroad Station Entrance
1-5-1 Minamisaiwai,Nishi-ku, Yokohama 220
Japan tel: 81-45 319 2438
Sculptures by Marini, Asukura and Yanagihara

Kirishima Open-air Museum
220, Koba 6340, yusui-cho, Aira-gun, Kagoshima Prefecture
899-6201, Japan T: +81.995.74.5945
http://open-air-museum.org/en/info/access
Located on the southern most part, of the southern most island in Japan, Kyushu, is the Kirishima Open Air Museum. Their permanent collection sounds very impressive, with the usual cast of well advertised international sculptors. For starters: Jonathan Borfsky, Anthony Gormley, Isamu Wakabayashi, Philip King, Takashi Murakami, James Turrell, Niki de Saint Phalle, Isamu Noguchi and Katsura Funakoshi. Approximately 30 sculptures are on display outdoors. Inside the museum there are over 50 sculptures.
The Kagoshima Visitor Guide says "Kirishima is said to be the place where the gods Ninigi-no-mikoto descended from heaven, as well as the site of the first emperor of Japan's birth." The tour guides to Ise might argue with these claims.
Moerenuma Park
Isamu Noguchi's "Moere Mountain" and "Black Slide Mantra" sculptures
Higashi-ku
Sapporo, Japan Tel: (011) 790-1231
Designed by Noguichi in 1988 just before he died, both sculptures were not completed and opened to the public in 2005. And we think our bureaucracy is slow!
Moerenuma Park is located on the site of a large city dump landfill, part of Noguichi's master plan for an Art Park. The black stone slide sculpture Black Slide Mantra is a children's slide located on land that connects Moere Mountain and Odori Park.
Mori Art Center
Roppongi Hills
Tokyo, Japan
Developer Minoru Mori has created a city within a city on 28 acres in downtown Tokyo. Over 200 shops are in this complex Roppongi Hills development that was previously an entertainment district. Sitting on the 52nd and 53rd floors of the 54 story Mori Tower is the Mori Arts Center. The arts center will not have a permanent collection, but will feature world class changing exhibitions. The concept of art galleries/ museums is not new to Tokyo. Many of the major department stores have art galleries open to the public on their top floors featuring exhibitions that any museum would be proud to display.
The entrance to the art center is a street level free standing conical pavilion designed by New York architects Gluckman Mayner. The overlapping glass panes have a fish-like appearance, reminiscent of Frank Gehry fish structures. www.archidose.org/Aug03/081803a.html <http://www.archidose.org/Aug03/081803a.html>
Also at a ground level entry is a multi-story giant ubiquitous Louise Bourgeois steel spider.

Museum Information Japan
A great online art resource with links to all art-related museums in Japan.

Museum of Contemporary Art Sapporo
2-75 Geijutsu-no-mori, Minami-ku, 005-0864
Sapporo, Japan
Tel: 81-11-591-0090
email: mocas@muh.biglobe.ne.jp
Over seventy sculptures by regional and international sculptors are located on large open lawns and silver birch woods.

The Isamu Noguchi Garden Museum
3519 Mure, mure-cho
Kita-gun, Kagawa 761-0121, Tel 087 870 1500.

Reimei Hill Sculpture Park
Schole Kikuchi Kougen Sports Park
Aso National Park
Komamoto-ken 861-14, Kyushu, Japan
Fifteen plus sculptures by mostly Japanese sculptors are on exhibit.
Shizuoka Prefecture Art Museum & Sculpture Garden
Atami, Izu Peninsula
Japan
An hour from the Ginza on the Bullet train will take you to Atami where you will be overwhelmed by this wonderful collection of contemporary sculptures made by Japanese artists: Funakoshi and Yanagihara; and international sculptors: Rickey, Tony Smith, and Rosati. Inside the M<useum you will see 32 large scale bronze sculptures by Rodin including "The Gates of Hell". Also indoors are works by Brancusi, Gaugin, Bourdelle, Lipchitz, Henry Moore and Giacometti.

Toyota Municipal Museum of Art
Chubu, Japan

Vangi Sculpture Garden Museum
Nagaizumi-cho
Shizuoka, Japan
Named for a famous Italian marble sculptor, the museum features large raked stone gardens and many stone sculptures.
Che Ju Sculpture Park
Shin Chun Jee Art Museum
Kwangnyong, Che-Ju 695-905, Korea
02 379-4408
A private collection of over 350 outdoor sculptures dot a landscaped 25 acre park. Work is primarily by contemporary Korean artists.
New Sejoong Traditional Stone Museum
Yongin, Korea Tel: 82-31-321-7001
The museum features a collection of over 10,000 stone stone sculptures dating from 57 BC- 935 AD located in a large forest grove about one train ride out of Seoul. This is the first stone museum in Korea.The museum was founded by Chon Shin-il, president of the Sejoong Corporation, and former chief of the Korean Wrestling Federation, after he saw a Japanese man buying large quantities of Korean stone sculptures in Insa-dong in 1980. The museum was opened to the public in June 2000.
The collection figures of government political figures, animal figures with whimsical expressions that were found around the tombs of kings and noblemen to protect the sould of the dead. Sotdae, or spirit poles usually a long stick or column with a stone bird mounted on top are prevalent. Other sculptures were made in praise of filial piety of sons and daughters In addition there are pagodas, buddha statues and stupas and a wide range of household tools like stone pots and ironing slabs.

Korean National Museum of Contemporary Art
Seoul, Korea
More than sixty sculptures are on the grounds around the grounds of the museum. Work is by Korean and international artists: Woohwan, Seung-taek, Kwok, Duk-joon, Tal Streeter, Magdelena Abakanowicz and Mauro Staicioli. If you download the plug-in you will see a movie of the sculpture garden.

Yeonji Open Air & Cyber Sculpture Garden
106-1 Nae-Dong, Gimhae City
Gyeong-Sang Nam-Do 621-902,
Korea
From their web site it appears that this is a large sculpture park, amusememt park, golf course, and kiddyland entertainment center that opned July 14, 2001. Much of the description is in Korean and the web site is difficult to fathom. In any case we wish them well.

SINGAPORE

Fort Canning Hill Sculpture Park
(Formerly Forbidden City)
Singapore
Formerly a fort until 1926 when it was made into a national park. It was launched as a sculpture park as part of the 1st ASEAN sculpture symposium. The garden features work by sculptors from the ASEAN nations such as: Singapore; Indonesia; Malaysia, Philippines; Thailand and Brunei.

In Singapore sculptures can be readily seen at the Botanical Gardens (watch out for snakes); Millenia Walk Sculpture Square with sculptures by Roy Lichtenstein; and The Sculpture Trail in the Business District. The sculpture trail has sculptures by Salvador Dale, Henry Moore, and Botero.

Singapore Art
Links to museums, galleries, artists, institutions in the Singapore area. If its art in Singapore they know about it.

Juming Museum
She-shi-hu
Taipei,
Taiwan, R.O.C.
Tel: 886-2-24989940
North of Taipei in the middle of landscaped lawns, woods on the rugged hillsides overloooking the ocean is the Juming museum with its extensive sculpture park. The sculptures are primarily by Ju Ming a Taiwan sculptor with an international reputation, who built the museum which opened in September 1999. Situated on 11 hectares feature work in his Taichi (shadow boxing images) and Living World series of abstract bronze or stone sculptures.
Bring comfortable walking shoes it takes over an hour to see the sculpture garden, and more time to see work in the museum. There changing exhibitions of sculptures by both ROC and international sculptors. This is Taiwan's first foray into having a world class museum and sculpture park.


New Era Sculpture Park
Puli, Taiwan
tel: (049) 912248
A three hour bus ride from Taipei's North Station this 16 acre sculpture park was started in 1986 by Huang Ping-sung. It features the work of the late Lin Yuan, who died in 1991 at the age of 79, and three other sculptors Lin, Chu and Yang. Many of the sculptures are carved stone, but others include work in ceramics and metal.


Taiwan Museum of Art


THAILAND
Bangkok Sculpture Center
1471 Town in town
soi 3/2 soi ladprao 94,
Ladprao Rd, Wangthonglang
Bangkok 10310
Thailand Tel: 66 2559-0505
email: artcenter@thaiartproject.org
Over 100 contemporary outdoor sculptures are on display in this private art collection which opened to the public in 2004. The sculptures are done by Thai artists and are cast at Thai bronze art foundries. The quality and craftsmanship of the sculptures is professional. The new contemporary glass and steel museum building for the Sculpture Center shares space with owner's commercial activities. Sculptures are on the grassy upper level and work activity can be seen down below. Contemporary art and sculpture is a rarity in Thailand. This is a major step forward for public art. From acorns large oak trees grow.
.

Chatujak Park
Bangkok, Thailand
This park is similar to the Fort Canning Sculpture Park in Singapore, the sculptors are all from ASEAN nations.

Sri Thep Sculpture & School of Art
Petchabun, Thailand 67170
Tel: (01) 9622127
Contemporary and 11th & 12th century outdoor sculptures.

Suartgallery
Istanbul, Turkey
Director: Suat Ozyonum
A rare gem of a virtual contemporary art gallery from a country that has been run over and/or occupied by just about every culture imaginable. From the Hittites, Persians, Greesk and Romans to Tamerlane and Genghis Khan. And of course the Byzantine empire.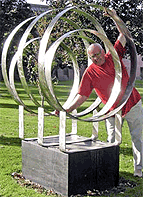 Benbow Bullock
12 Sandy Beach
Vallejo, CA 94590

voice 510.245-2242
fax 510.245-2252